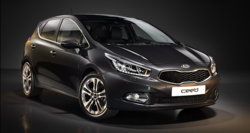 (PRWEB UK) 15 March 2012
The all-new 2012 Kia cee'd made its world premiere at the 82nd Salon International de l'Auto in Geneva. Joining the new mid-sized Kia cee'd in Switzerland, and on their European debut, were the Kia Track'ster concept car and the Kia Ray EV (electric vehicle). The cars were joined by two innovative in-car infotainment concepts - the IVI (In-Vehicle Infotainment) and UCD (User-Centred Driving) concepts - that offered a glimpse into the future of in-car technologies.
"The three Kia premieres taking place at Geneva cover a broad spread of automotive segments and highlight the diversity of our present and future product line-up," commented Thomas Oh, Senior Executive Vice President and Chief Operating Officer, Kia Motors Corporation.
"The original cee'd was a major landmark car for Kia in Europe, enabling us to compete in the hotly contested C-segment for the first time. The second-generation model is, once again, a game-changing car with enhanced design, quality and powertrains. Our pursuit of clean power technologies is also represented by the Kia Ray EV. Finally, Kia is showing its fun side with the Track'ster concept - a high performance variant of the company's hugely successful B-segment urban crossover, the Kia Soul."
All-new cee'd
Designed, engineered and manufactured in Europe, the new Kia cee'd hatchback is more sophisticated, more efficient, more refined and with a more engaging driving experience than its predecessor. The new cee'd family car will build on the success of the original model, further establishing Kia as one of the leading automotive brands in Europe.
Longer, lower and sleeker than the original model, the 4.3-metre long new 2012 cee'd has a streamlined silhouette shaped by extensive testing in Kia's state-of-the-art wind tunnel. Higher quality cabin materials and a broader range of high-tech equipment will ensure the interior of new Kia cee'd matches the premium exterior appearance and competes with best-in-class rivals.
In developing the new cee'd 2012 , Kia's engineers had a strong focus on reducing fuel consumption and emissions without sacrificing engine response or power output. Across most of Western Europe, the new cee'd will be available with two petrol (1.4 MPI, 1.6 GDI) and two diesel (1.4 CRDi, 1.6 CRDi) engines offering power outputs from 90 to 135 ps.
The updated engines mean an average four per cent improvement in fuel consumption across the range, while the 128 ps diesel with Kia's EcoDynamics fuel saving technologies achieves fuel consumption of as low as 3.7 l/100km and CO2 emissions of just 97 g/km.
Highlight of the petrol line-up is a 1.6-litre Gamma GDI engine, which features the latest gasoline direct injection technology to maximise power (135 ps) and torque (165 Nm) outputs. Coupled with the 1.6 GDI is an all-new Dual Clutch Transmission (DCT) that delivers smooth gear shifts for maximum driving comfort, lowers fuel consumption and reduces CO2 emissions compared with the previous conventional automatic transmission.
The new Kia cee'd SW, the estate version of Kia's C-segment family car, was also unveiled at the show. Full details of this important model will be confirmed closer to its on-sale date, later in the year.
Note to Editors:
A separate release has been issued (6th March 2012) giving additional specification and technical details on the all-new Kia cee'd.
For further information on Kia, please visit http://www.kiapressoffice.com
About Kia
As a global company, Kia Motors produces in excess of 2 million cars a year and, as such, a wide range of Kia vehicles including passenger cars, commercial vehicles and buses can be seen throughout the world.
Kia is on a relentless drive to upgrade the style and quality of its entire model range while hammering down fuel consumption and CO2 figures. The all new Kia Rio and Kia Optima are a major step forward in meeting Kia's aims.
For further information on Kia Motors UK, please visit http://www.kia.co.uk, view Kia's new cars 2012 and new car deals, or visit http://www.kiapressoffice.com.