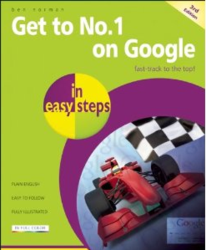 (PRWEB UK) 15 March 2012
The latest revision of Get to No 1 on Google in Easy Steps by Ben Norman, which has recently been published, seeks to provide beginners with the very latest SEO techniques and advice. Now in its third edition, this popular book has already sold over 50,000 copies and has helped website owners throughout the world to get to grips with the fundamentals of Search Engine Optimisation.
Ben Norman is a highly successful SEO consultant and is also the Managing Director of leading UK-based Digital Marketing Agency, Koozai. The experience and knowledge gained from his many years within the industry provide a unique perspective, which is reflected in Get to No 1 on Google in Easy Steps.
Since the last edition was published in 2009, search engines and online marketing techniques have changed a great deal. New products like Google+ have impacted the way results are presented, whilst algorithm updates, including Panda, have rendered some optimisation methods obsolete. This latest revision incorporates the newest tools, platforms and tips to help readers get to grips with modern SEO.
The author, Ben Norman, gives an insight into what people can expect from his latest book; "Search Engine Optimisation is continuously adapting to encompass the latest algorithm updates. What works one year, might not the next; the third edition of Get to No 1 on Google in Easy Steps reflects the very latest updates, providing readers with the most up-to-date SEO advice."
"It's a straightforward, step-by-step guide to SEO in 2012 and should benefit any site owner that is looking to optimise their domain" Ben continued. "There are easily implementable techniques, some really useful tools and great ideas for promoting businesses of any size online. It's perfectly suited for beginners who are looking to get a better understanding of the processes involved in Search Engine Optimisation."
Get to No 1 on Google in Easy Steps is available to buy now, with a recommended retail price of £10.99.
About the Author
Ben Norman is a leading SEO Consultant and Managing Director at Koozai, a UK-based Digital Marketing Agency with offices in London and Southampton. He founded the company in 2006 and has been working within the industry for almost a decade. Ben has previously authored Getting Noticed on Google in Easy Steps (2007) and Get to #1 on Google in Easy Steps (2009), selling over 50,000 copies around the world. Get to No 1 on Google in Easy Steps (2012) is the third edition of this highly successful and popular SEO book and is available now.