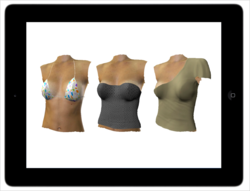 Lausanne, Switzerland (PRWEB) March 14, 2012
Crisalix provides an online simulation system for reconstructing the patient's body in 3D from 2D images, and the first cloud-based 3D preview technology for plastic surgery based on the physical properties of the body.
About the e-Stetix iPad App
Plastic surgeons can now upload photos to Crisalix's system taken directly with their iPad. Crisalix's app has intuitive and easy-to-use functionalities to generate their patients' 3D model and instantaneous simulations. This app also includes a comprehensive implant catalogue with over 5,000 models available in the market from all major manufacturers and a 3D Virtual wardrobe.
With the app plastic surgeons can simulate breast augmentation, implant replacement and fat injection, as well as conduct pre-surgery planning in 3D with measurements, markings and automated pre-operative volume calculations.
For the first time, plastic surgeons will be able to sit together with their patients and share on-screen 3D simulations with them during consultations, allowing patients themselves to visualize, move and interact with their own bodies in 3D from different angles. This new level of interaction will result in a more entertaining consultation for patients.
About Crisalix
Based in the fastest growing life science cluster in the world, The Swiss Institute of Technology of Lausanne (EPFL), Switzerland, Crisalix is a leader in 3D simulation technology for the field of healthcare esthetics, and brings together the latest advancements in surgical technology, 3D and information technology.
IPRAS (International Confederation for Plastic, Reconstructive, and Aesthetic Surgery) recently endorsed Crisalix for the significant progress e-Stetix's 3D simulation technology brings to the entire medical community and its contribution to providing the highest level of patient care.
Availability and distribution information
This new iPad app is available with all Crisalix accounts and will be distributed through the iTunes App Store.
Plastic surgeons and esthetic healthcare professionals interested in finding out more about the iPad app or incorporating e-Stetix 3D simulations in their consultation, should contact a Crisalix product specialist via email or LiveChat on the following contact page: http://www.crisalix.com/en/contact
Press contact: Nandan Sampatkumar
Tel: +41 21 693 9001
Email: press(at)crisalix(dot)com
Website: http://www.crisalix.com