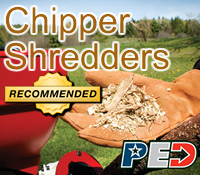 When it comes to a yard cleanup, using a chipper shredder will make your job much easier
Bolingbrook, IL (PRWEB) March 14, 2012
Today PowerEquipmentDirect.com released its recommendations for the best wood chipper shredders.
"When it comes to a yard cleanup, using a chipper shredder will make your job much easier," said Mike Sawisch, resident product expert at Power Equipment Direct. "You'll be able to make short work of all those fallen leaves and branches littering your lawn."
Top Chipper Shredders
Good: MTD Yard Machines (2") 208cc Chipper Shredder - 24A-45M3000
Better: Earthquake (3") 206cc Chipper / Shredder With Briggs & Stratton Intek Engine - 9060300
Best: Troy-Bilt (3") 250cc 1150 Series Tow-Behind Chipper Shredder - 24A-42M766
According to Sawisch, most retailers are loyal to whatever wood chippers are in their store.
PowerEquipmentDirect.com, however, isn't your ordinary retailer. The online superstore specializes exclusively in chainsaws and wood chippers and carries more than 60 models from many of the leading national brands.
The online retailer combined recent sales history, customer reviews and personal insight to generate their final recommendations.
Once the dust and data settled, only 3 wood chipper shredders sold by PowerEquipmentDirect.com were given its prestigious "Recommended" status.
In addition, the expert staff personally wrote online reviews for each chipper shredder, explaining why the company recommended it.
By providing the recommendations and reviews, Power Equipment Direct hopes to arm shoppers with enough ammunition to pick the perfect chipper shredder for their needs.
Power Equipment Direct operates 10 niche online superstores. In addition to ChainSawsDirect.com, the Bolingbrook, IL-based company operates AirCompressorsDirect, ElectricGeneratorsDirect, LogSplittersDirect, MowersDirect, PressureWashersDirect, SnowBlowersDirect, SumpPumpsDirect, TillersDirect and WaterPumpsDirect.