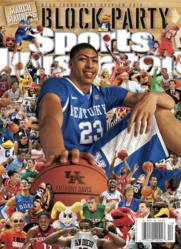 Mobile augmented reality adds a degree of brand interactivity to the magazine experience that is unmatched.
Arlington, MA (PRWEB) March 14, 2012
The popular Sports Illustrated NCAA Tournament Preview issue, on newsstands today, will feature an augmented reality (AR) experience specifically designed for smartphones. Built by Nellymoser, a mobile marketing and technology services company, the AR experience includes six embedded videos that launch from the foldout cover of the magazine with the Sports Illustrated All Access App for iPhone and Sports Illustrated – Phone for Android. AR offers readers a unique and fun way to experience the NCAA Tournament issue while also providing value-added content.
Augmented reality is the process of overlaying digital content, such as images or video, on top of real-world images to enhance a user's experience. In the case of Sports Illustrated, readers who scan the cover gatefold with their mobile phone will see six computer-generated images "floating" over the cover image. The images are clickable and launch exclusive videos including one which announces SI's College Basketball Players of the Year and another announcing SI's Coaches of the Year. Additional videos include a NCAA Tournament preview, fan videos, SI's stories of the year, and a feature on great moments from the 2011-2012 season.
The augmented reality system in the SI mobile apps and the high quality video delivery process were built and are managed by Nellymoser. Nellymoser's mobile engagement platform enables marketers to optimize, deliver and present digital content across desktops, tablets and phones. The mobile app delivers a completely branded SI mobile experience and includes Nellymoser's Universal Scanner technology, which gives users the added ability to scan any type of mobile action code (2D, QR, Microsoft Tag, Watermark, and Augmented Reality) they find in the magazine. The mobile apps are available from the iTunes App Store and Google Play Store.
"So often the conversation about technology revolves around new devices. What we're really excited about is the potential to use technology to bring print pages to life in surprising ways," said Terry McDonell, Time Inc. Sports Group Editor.
"We value our close partnership with Sports Illustrated and their push to continuously innovate their magazine with print-to-mobile experiences that engage and entertain SI readers," said John Puterbaugh, Founder and CEO of Nellymoser. "By overlaying dynamic content on top of the printed page via the mobile phone, mobile AR adds a degree of brand interactivity to the magazine experience that is unmatched. We're excited to bring this high quality mobile experience to SI Magazine and others."
About Nellymoser Print-to-Mobile Solutions
Nellymoser produces the mobile user experience for its customers' campaigns. The company's turnkey solutions include a combination of creative services, programming, site hosting, and detailed analytics. Mobile campaigns are launched when a user with a mobile device scans a digital watermark or 2D action code, such as a QR code or Microsoft Tag. Mobile experiences can include product videos, enter-to-win contests, mobile commerce, sharing of content via social networks and more.
Nellymoser Companion Apps, like the SI All Access App, provide a completely branded mobile environment that engages readers and lets them compare prices, engage socially, subscribe, shop and unlock exclusive deals tailored just for them. Powerful Companion Apps can be built in weeks and at a fraction of the cost of a regular smartphone app.
About Nellymoser
Nellymoser Inc. (http://www.nellymoser.com), a mobile marketing and technology services company founded in 2000 and headquartered in Arlington, MA, turns printed action codes (e.g., 2D bar codes, QR codes, Microsoft Tags, SMS) into instant, interactive consumer "engagements" on mobile phones. These range from contests and product videos to interactive multimedia engagements that can be shared on social media (e.g., Facebook and Twitter) and include e-commerce for instant product purchases. Nellymoser's customers include leading publishers, advertisers, retailers, and consumer packaged goods companies.
About SPORTS ILLUSTRATED
SPORTS ILLUSTRATED is a multimedia sports brand that takes the consumer into the heart and soul of sports. The SPORTS ILLUSTRATED franchise is anchored by the weekly magazine—the most respected voice in sports journalism, reaching a weekly audience of nearly 22 million adults—and http://www.SI.com, the magazine's 24/7 sports news website that delivers more than 300 original stories to its users each week. The franchise also includes SPORTS ILLUSTRATED KIDS (http://www.sikids.com), a monthly magazine targeted to kids age 8 and up; GOLF MAGAZINE and http://www.GOLF.com; http://www.FanNation.com, a social networking and sports-news aggregation platform; SI Presents, the magazine's specialty publishing division; as well as SI Books, SI Pictures, SI Productions, SI Digital and SI Events. Founded in 1954, SPORTS ILLUSTRATED is a division of Time Inc., the world's leading magazine publishing company and a subsidiary of Time Warner.