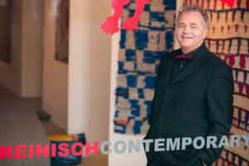 These pieces are reminiscent of modern and contemporary art, raising the question as to what extend these anonymous works of art rank behind famous oil paintings.
Graz, Austria (PRWEB UK) 16 March 2012
Günther Holler-Schuster, Neue Galerie, about The Image on the Wall:
There is a vision of art that ignores profane images outside of its own system. Today, innumerable images, as well as the numerous places they occur in (from mass media to applied arts), trigger a new war of images. The question of definition appears more complex and urgent than ever. That a carpet, quite apart from its functionality, can also be a carrier of information, or an image, must be acknowledged as a fact. The abstract forms of a carpet – particularly one hanging on a wall – can be seen from the perspective of abstract or monochrome painting within the meaning of a globalised transfer of arts and culture. Today, more than at any previous time, the context in which visuality is experienced is up to the visual consciousness of the audience.
Presenting a fine selection of works by nameless artists whose creations never knew nor needed the boundaries of the contemporary art business, Reinisch Contemporary opens a new perception of authentic textile art. Namely, as part of a timeless picture language that defies all clichés of the Oriental carpet.
Helmut Reinisch: "Up until seventy to a hundred years ago, Nomads – a culture without architecture and the written word – created arresting objects of art. Patterns and motives, but also proportions and colours, were embedded in climate, era, culture and religion, often representing a legible pictogram. These carpets were never geared towards the market or decoration; they were articles of daily use or ritual objects. Some remind us of works of classic modernity and contemporary art, raising the question to what extend these anonymous works of art rank behind famous oil paintings."
As a collector and dealer, Helmut Reinisch never paid much attention to the at times broad chasms between different art forms. Fittingly, this exhibition takes place at the city's main square, the very same location where Reinisch's efforts to challenge and redefine the traditional boundaries between art genres first took shape more than 30 years ago.
Event Details
The Image on the Wall
Opening: 19 March, 2012
Reinisch Contemporary
Hauptplatz 6, 8010 Graz, Austria
http://www.reinisch-contemporary.com
Exhibition runs until, 4 April, 2012:
Monday to Friday: 10am to 6pm
Saturday: 10am to 5pm
About Reinisch Contemporary
More than 25 years ago, Helmut Reinisch began to collect, exhibit and trade contemporary Austrian and international art. Alongside works by promising new talents the collection also includes pieces by artists such as Arnulf Rainer, Hubert Schmalix, Erwin Wurm and Joseph Beuys.
Operating across genre boundaries, Reinisch Contemporary explores ostensibly disparate fields of work and the connections between them. From time to time, fields of resonance between selected pieces ranging from fine arts and sculpture to textiles and photography are brought to light.
Through exhibitions, residencies and cross-disciplinary projects at its locations in central Graz and nearby Kalsdorf Castle, Reinisch Contemporary creates links between artists, collectors, experts and the wider public.
Important Information for the Press
For further information, please visit:
http://www.reinisch-contemporary.com
High-resolution images available on request:
press(at)reinisch-contemporary(dot)com
For publication, free of charge. Please send a copy or link to any coverage related to this press release to: press(at)reinisch-contemporary(dot)com