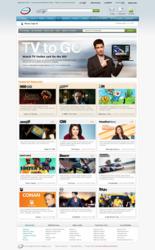 No other company is doing as much as Cablevision to give customers flexible and mobile viewing options on new devices, connectivity out of the home and easy tools to navigate through this expanding world of content options
(PRWEB) March 14, 2012
Cablevision Systems Corp. (NYSE: CVC) today announced the launch of HBO GO® and MAX GO®, expanding to 12 the number of mobile programming services available to iO TV digital cable customers. HBO GO and MAX GO make HBO® and Cinemax® content available on any Internet-connected computer and other portable devices like the iPad® and iPhone® and Android™ smartphones to customers who receive the channels as part of their cable service.
"TV to GO" or "TV Everywhere" is a cable industry initiative that allows customers to access the programming they have paid for as part of their cable TV subscription on a variety of devices, even when they are away from home. To help customers navigate through the expanding array of available TV to GO options, Cablevision has launched a new comprehensive online resource at http://www.optimum.net/TVtoGO. With one click, customers can receive info on and go directly to all 12 available TV Everywhere-type services from HBO, Cinemax, CNN, TBS, TNT, tru TV, Adult Swim, Cartoon Network, Speed2, HLN, MSG Varsity and News 12.
"It is a great time to be a Cablevision customer, with 12 programming services now available both in and out of the home, the nation's largest WiFi network for fast and free wireless Internet, and the industry's best app for in-home viewing on smaller devices, featuring our full cable service, On Demand and other key features," said Bradley Feldman, vice president of video product management. "No other company is doing as much as Cablevision to give customers flexible and mobile viewing options on new devices, connectivity out of the home and easy tools to navigate through this expanding world of content options."
TV Everywhere services are available anywhere in the U.S. where a customer can connect to the Internet. Cablevision customers who also subscribe to Optimum Online high-speed Internet service have the additional convenience and flexibility of being able to access TV Everywhere services when away from home using the Optimum WiFi network – the nation's largest WiFi network, made up of more than 35,000 hotspots across Cablevision's tri-state service area.
For in-home viewing, Cablevision customers can use the company's Optimum App for iPad, iPhone or iPod touch to watch their full cable service – live programming, On Demand and other features – on these mobile devices in the home. The Optimum App also includes DVR controls, the ability to search for programming and even a remote control for televisions in the home connected to set-top boxes.
HBO GO, which offers more than 1400 titles online, allows Cablevision customers who subscribe to HBO to instantly watch every episode of every season of the best HBO shows including current series like Game of Thrones, True Blood®, and Boardwalk Empire®, classics like The Sopranos®, Sex and the City® and Deadwood®, plus HBO original films, miniseries, sports, documentaries, and specials as well as a wide selection of blockbuster theatricals. HBO's sister service, MAX GO, adds more than 400 titles of Cinemax programming online, providing instant access to hundreds of Hollywood hit movies, indies, cult favorites, the MAX After Dark series as well as new and exclusive, primetime high-impact drama series like Strike Back℠, specifically created for the channel.
With the online services, Cablevision customers will have access to most new titles simultaneously with their premiere on the networks; the ability to create a "Watchlist" that keeps track of bookmarked content for later viewing; bonus content including interviews, recaps, and behind-the-scenes extras; and customizable views showing titles in slideshow, grid or list format. In addition, HBO GO can be personalized through a "Series Pass®" capability which automatically alerts viewers to new episodes of favorite HBO programs when they arrive on the service.
To access online, Cablevision's HBO and Cinemax subscribers can go to HBOGO.com and MAXGO.com, or simply visit http://www.optimum.net/TVtoGO. Subscribers can then sign in with their Cablevision user ID and password, make their viewing selection and begin watching.
About Cablevision
Cablevision Systems Corporation (NYSE: CVC) is one of the nation's leading media and telecommunications companies. Its cable television operations provide a full suite of advanced communications services that include iO TV® digital television, Optimum Online® high-speed Internet, and Optimum Voice® digital voice, all over state-of-the-art cable systems that pass nearly 6 million households and businesses across the New York tri-state area and throughout four Western states. Cablevision's telecommunications properties also include its Optimum WiFi® wireless Internet, and its Optimum Lightpath® integrated business communications solutions. Cablevision serves the New York area with compelling local content through News 12 Networks, a local news leader; MSG Varsity, a suite of television and online services covering high school activities; and, Newsday Media Group, a business unit that includes Newsday, Long Island's leading daily newspaper, and amNewYork, the nation's most widely circulated free daily serving New York City. The company also owns and operates Clearview Cinemas throughout the New York tri-state area including the famed Ziegfeld Theatre, a frequent and historic venue for film premieres and events. Additional information about Cablevision is available on the Web at http://www.cablevision.com.