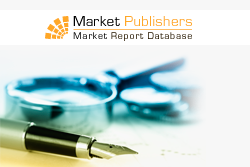 London, UK (PRWEB) March 14, 2012
The world micro irrigation system market is dominated by sprinkler irrigation system sector, which accounted for more than 72% of the total micro irrigation system demand in 2010 and is projected to grow at 17.4% CAGR to approach USD 2,418 million by 2016. The drip irrigation system market is expected to reach USD 996.7 million by 2016, with a CAGR of 19.0%. Orchard crop is the largest and fastest growing crop segment for micro irrigation system industry and is likely to grow at 19.3% CAGR over the forecast period. Micro irrigation system for field crops is another growing segment for micro irrigation system market.
The global demand for micro irrigation systems is anticipated to be driven by increasing population, rising water scarcity and cost effectiveness of fertigation and chemigation in micro irrigation systems over other crop protection and fertilizer application methods. However, high initial and maintenance cost could pose major threat to this market growth.
New research report "Global Micro Irrigation System Market by Types, Applications, Geography, Crop trends, and Forecasts (2011-2016)" worked out by MarketsandMarkets has been recently published by Market Publishers Ltd.
Report Details:
Title: Global Micro Irrigation System Market by Types, Applications, Geography, Crop trends, and Forecasts (2011-2016)
Published: March, 2012
Pages: 370
Price: US$ 4,650
http://marketpublishers.com/report/industry/agriculture/global_micro_irrigation_system_market_by_types_applications_geography_crop_trends_n_forecasts_2011_2016.html
The report delves into extensive research and in-depth analysis of the world micro irrigation system market, categorizing it on the basis of types, applications, geography, and crop type trends. It forecasts revenues and analyzes trends in each of these submarkets. To contribute to a better understanding of the sector, the study gives detailed insights into key market drivers, restraints & challenges, and major trends. Market share by participants for the overall market is discussed in detail. Furthermore, profiles of leading players of this industry including Netafim (Israel), Jain Irrigation System Limited (India), and John Deere & Company (the U.S.) are presented.
Report Contents:
1 Introduction
1.1 Key Take-Aways
1.2 Report Description
1.3 Research Methodology
1.3.1 Market Size
1.3.2 Key Data Points from Secondary Sources
1.3.3 Assumptions Made for this Report
1.3.4 Stakeholders
1.4 Key Questions Answered
2 Executive Summary
3 Market Overview
3.1 Introduction
3.2 Winning Imperative
3.2.1 Fertigation & Chemigation Reduced Fertilizer & Herbicides Use
3.3 Drivers
3.3.1 Rising Population & Increasing Food Requirements
3.3.2 Water Scarcity Demands Micro Irrigation
3.3.3 Micro Irrigation Improves Crop Yield & Quality
3.3.4 Water Use Efficiency with Micro Irrigation
3.4 Restraints
3.4.1 High Initial Investment
3.4.2 Continuous Maintenance Adds to the Cost
3.5 Opportunity
3.5.1 Strong Progress In New & Emerging Market – Asia-Pacific & Rest of the World
3.6 Market Share Analysis
3.7 Patents Analysis
3.7.1 Patent Analysis, by Geography
3.7.2 Patent Analysis, by Year
3.7.3 Patent Analysis, by Company
4 Global Micro Irrigation System Market, by Types
4.1 Introduction
4.2 Sprinkler Irrigation
4.2.1 Advantages of Sprinkler Irrigation
4.2.2 Constraints in Application of Sprinkler Irrigation
4.2.3 Components of Sprinkler Irrigation System
4.2.3.1 Pumping Unit
4.2.3.2 Tubings
4.2.3.3 Couplers
...
More new research reports by the publisher can be found at MarketsandMarkets page.