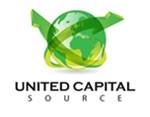 Rockville Centre, NY (PRWEB) March 16, 2012
United Capital Source, LLC recently closed a $1.25 million dollar deal for a merchant in the medical industry. The deal, which was completed in just five days, was a standard-breaking deal in the unsecured financing space, where funding rarely exceeds the $250,000 to $500,000 range.
United Capital Source offers merchant advances on traditional industry terms, as well as unsecured business loans on a fixed term, fixed payment basis. The aforementioned deal provided the merchant with a fifteen month term, with a rolling credit line after just six months.
"In our business, companies normally don't provide financing over $500,000…if they even provide that much," explains Jared Weitz, CEO of United Capital Source, "but here at United Capital Source we do everything in our power to meet our clients' needs, even if that means stretching beyond normal limits to help our clients achieve their desired results."
United Capital Source provides a wide range of financing products (including merchant cash advances and unsecured business loans) for any business across the country. To learn more visit UnitedCapitalSource.com.
About United Capital Source, LLC
United Capital Source, located in Rockville Centre, New York, was founded to provide alternative financing products for small businesses. United Capital Source has been serving clients throughout the country through independent agents/brokers, financial institutions, and online. Known for being able to provide funding for bad credit, with United Capital Source there are no personal guarantees or collateral necessary, and there are also no restrictions on how a borrower spends the proceeds, which enables businesses to grow hassle free. For more information, visit UnitedCapitalSource.com.