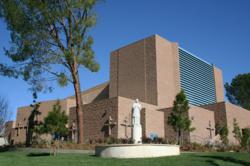 "In the world of educational institutions, this is simply a 'game changer,'" said Chaminade President, Jim Adams.
West Hills, CA (PRWEB) March 21, 2012
The Tutor Family Center for the Performing Arts, Chaminade College Preparatory's new home for creativity, is now open.
"In the world of educational institutions, this is simply a 'game changer,'" said Chaminade President, Jim Adams.
The $9.7 million state-of-the art facility houses teaching and rehearsal space for drama, dance, band and choral students. The drama room doubles as a black box theater; while the dance room features a sprung, slip-resistant floor; and the band and choir rooms each have acoustic treatments. The 23,175 square-foot building also features a 365-seat theater, a permanent stage with 46 lines for backdrops, curtains, lights, etc. and an integrated lighting and sound system. Backstage, there is a scene building workshop, storage rooms for props and costumes, as well as dressing rooms and office space.
The $9.7 million needed for completion of the project was funded through the successful $6 million capital campaign, Lighting the Way, the Campaign for Chaminade, along with cash reserves. Despite a challenging economic climate, Chaminade's largest campaign successfully reached its goal thanks to generous donors, including Ronald Tutor, who provided the leadership gift which made ground breaking and initial construction possible.
With a new and permanent home for the performing arts on campus, Chaminade firmly demonstrates the high priority it places on creativity. Adams says, "When we started this campaign our case for support focused on creativity and the value it brings to the educational process. The indispensible value it brings to our students as they move into a world that changes not by the day, but by the moment." Chaminade College Preparatory encourages students to foster their imagination, envision new possibilities and probabilities, and find their inspiration.
The inaugural production in the Tutor Family Center of the Performing Arts, "Fiddler on the Roof," opened on Friday, March 16, 2012 at 8:00 p.m. Directed by Yvette Bishop, additional performances are set for March 17-18 and March 23-25.
Continuing through May 2012, Chaminade has an impressive lineup of performances, including:
March 16-18 Fiddler on the Roof
March 20 Spring Sing
March 23-25 Fiddler on the Roof
April 4 Tenebrae Lenten production
May 4-6 Dance Concert
May 11-12 Dance Concert
May 18 Small Ensemble Concert
May 24 Chorus and Band Spring Concert
Chaminade College Preparatory is a coeducational Catholic school in the Marianist tradition, serving students in grades 6-12, with a mission to form morally aware and academically capable people to be outstanding contributors to the future. Founded in 1952, Chaminade operates a middle school campus in Chatsworth, and a high school campus in West Hills.
For additional information about Chaminade College Preparatory and the Tutor Family Center for the Performing Arts please contact Patricia Fernandez, marketing and public relations manager, at pfernandez(at)chaminade(dot)org.