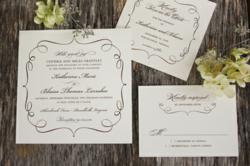 West Kennebunk, Maine (PRWEB) March 16, 2012
William Arthur, renowned maker of fine stationery, is pleased to announce the unveiling of eight new unique wedding stationery suites with Style Me Pretty. Style Me Pretty by William Arthur is a new collection of wedding stationery created in collaboration with the creative mind behind the very popular wedding blog, Style Me Pretty (http://www.stylemepretty.com), the leading online resource for the style obsessed bride. On her website, editor and founder Abby Larson brings an intimacy and a sense of style to the wedding industry with a voice that is approachable, completely relatable and effortless. And brides are listening! Style Me Pretty reaches over 1 million unique visitors and 13 million page views each month, more than any bridal magazine on newsstands.
The eight new stylish wedding stationery suites are now available at local stationers and online at http://www.williamarthur.com. This exciting new collection combines the charm and exuberant personality of Style Me Pretty with William Arthur's love of timeless quality. Featured are: bold, modern Chevron designs with rounded corners; ethereal and sweet watercolor floral; and luxuriously letterpressed designs with pale green ink edging.
About Style Me Pretty
Style Me Pretty is a style savvy wedding resource devoted to the modern bride. Covering everything from gorgeous weddings to up-and-coming vendors and seasoned professionals, Style Me Pretty features only the most chic and style-centric wedding related content. Launched in February of 2007, Style Me Pretty has become a mainstay in the wedding industry. With nods in nearly every major bridal magazine, including Real Simple Weddings, Martha Stewart Weddings, Elegant Weddings and Modern Bride, along with features in such publications as Blog Watch in the Wall Street Journal, Style Me Pretty is quickly becoming one of the most read wedding resources on the web.
About William Arthur
For over 60 years, William Arthur has been renowned for creating fine stationery. The company's products are designed and produced in West Kennebunk, Maine, where the beauty of coastal living is enjoyed with easy access to urban centers from Portland to New York. Deeply knowledgeable about high-end printing and the many nuances of fine writing papers, William Arthur's staff artists and craftspeople are passionate about quality, as well as both old-world and state-of-the-art printing methods. At William Arthur, employees are dedicated to making the company a wonderful place to work, and to ensuring that each and every customer is delighted by their exquisite products and extraordinary customer service. Visit them online at http://www.williamarthur.com.