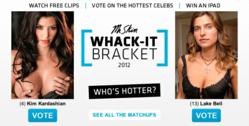 From A Cup All-Stars to Heavy Handfuls, surfers vote on their favorites celebs in head to head match-ups.
Chicago, IL (PRWEB) March 14, 2012
It's a question that guys can (and do) discuss endlessly: Who's hotter? So in honor of the NCAA Basketball Tournament and March Madness, is combining the participatory element of fantasy sports with the sexy fun of celebrity skin to create the Whack-It Bracket.
Mr. Skin's nudity experts have selected 64 of the hottest and most popular celebs on the Mr. Skin site and seeded them from 1-16 into four divisions broken up by cup size. The girls will go head-to-head on MrSkin.com, with video clips of them at their hottest for viewers to watch and then vote for their favorite.
Among the top stars in each division:
A-Cup All Stars: Natalie Portman, Keira Knightley, Mila Kunis, Milla Jovovich, Olivia Wilde, and 11 more
B-Cup Beauties: Jessica Alba, Michelle Williams, Miranda Kerr, Zooey Deschanel, Olivia Munn, and 11 more
Chesty C-Cups: Jennifer Aniston, Jessica Biel, Amanda Seyfried, Emmy Rossum, Angelina Jolie, and 11 more
Heavy Handfuls (D-Cup and over): Kat Dennings, Kate Upton, Sofia Vergara, Scarlett Johansson, Christina Hendricks, and 11 more
Beginning March 12, every five days a new round of voting will begin, starting with 32 matches, then 16, 8, 4, 2…until the single sexiest celebrity in Mr. Skin's database of over 19,000 stars has been decided. And since the winners will be determined solely by viewer votes, no one will know the champion until the final round is complete- not even Mr. Skin himself.
Voting is FREE with just an email address; Mr. Skin membership is not required to participate. Entering an email address allows the viewer to watch and vote on all 64 video clips of our bracket babes in action, and every vote enters you to win our grand prize of an iPad 3 or one of 10 Mr. Skin Prize Packs, so the more you vote, the more chances you have to win!
If you'd like more information on this topic and/or to book Mr. Skin for an interview, contact Pete McMurray at (312) 933-5963 or by email at Pete(at)mrskin(dot)com.