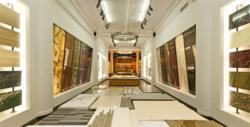 New York Stone is the place to go for top quality imported marble and other semi-precious stone.
(PRWEB) March 16, 2012
New York Stone has recently opened a marble and granite distribution showroom in the heart of Manhattan on west 21st street. This location is just across the Hudson river from New York Stone's flagship location on 45 Howell Street in Jersey City. The showrooms are easily accessible to each other through the Holland Tunnel, and transit should take a maximum of fifteen minutes in good traffic. This new location both expands New York Stone's accessibility to potential customers in New York City and also increases the space available to store large quantities of precious stone slabs, such as marble, granite, onyx, limestone, and other varieties.
Because New York Stone now has two locations, one in Manhattan and one in Jersey City, it will be very simple for customers to travel between them to see the stone slabs and marble tiles themselves if they have questions or wish to visit the expanded collections. New York Stone's two locations are varied in size, design, and stock, so visiting both will give customers the best idea for what type of stone they could purchase. Our New Jersey showroom is 125,000 square feet, and it showcases over 400 different varieties of stone. New York Stone's Manhattan showroom is approximately 15,000 square feet across three stories. The New York location is arranged in such a way as to display an innovative showroom concept that allows visitors to see the stone arranged in their original sizes. Each floor contains its own collection from a specific retailor, such as Luccon, Hyperwave, and Marazzi.
New York Stone has also been updating and increasing its supply of imported marble and semi-precious stones in both of its showrooms. This process occurs constantly because New York Stone see it as its duty to keep its supply of stone up to date. Recently acquisitions include slabs of white cararra marble, nero madera marble, giallo siena limestone, eramosa limestone, and Jerusalem gold limestone of various types. New York Stone has a few slabs of each of these types, so potential customers can come and visit to see which specific pieces interest them the most. These stone slabs come in various sizes and thicknesses. For example, the white carerra slabs vary between 120x70 with a thickness of 5 cm and can go as small as 101x65 with a thickness of 3cm. New York Stone is dedicated to getting the best quality and variety of stone from around the world, and will continue to do so in the future to bring the best to customers at either location.