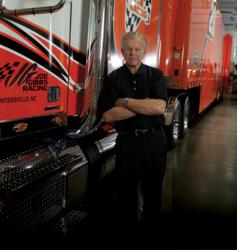 FleetLocate allows me to keep track of my race cars so I know exactly where they are, if they're on schedule, and when they should arrive at any given time.
Knoxville, TN (PRWEB) March 15, 2012
Joe Gibbs Racing announces that the three-time NASCAR Championship team has employed FleetLocate by ProconGPS, Inc. to track and monitor the haulers transporting its race cars and show cars nationwide.
"NASCAR season is really year round now with 38 total race weekends all across the country," explains Coach Joe Gibbs, owner of Joe Gibbs Racing and Pro Football Hall of Fame Head Coach, who won three Super Bowls at the helm of the Washington Redskins. "We also have to transport our race cars to test track facilities around the country and FleetLocate allows me to keep track of my race cars so I know exactly where they are, if they're on schedule, and when they should arrive at any given time."
Using FleetLocate's intuitive, easy-to-use dashboard and flexible reporting features, Joe Gibbs Racing will have unprecedented visibility of the team's show cars and haulers as they transport them from city to city and race to race.
"FleetLocate allows Joe Gibbs Racing to pinpoint the location of each hauler to see where the delays are, what's causing the delays and how to remedy them," says Steve Blair, ProconGPS Vice President and General Manager, Fleet Services Group.
FleetLocate not only gives the Joe Gibbs Racing team insight into their race cars, it also provides them instant information on all of their promotional show cars. "Unlike the race schedule, the show car schedule can change on the fly," says Gibbs. "And let me tell you, using real time information to provide accurate arrival times of show cars across the country is critical to keeping our sponsors and fans happy."
"In today's highly competitive environment, we need every advantage we can get," Gibbs adds. "Having instant access to that real-time business intelligence allows us to make faster, smarter decisions. We're confident that ProconGPS' FleetLocate will prove to be a winning part of our racing performance and business."
About Joe Gibbs Racing
Joe Gibbs Racing (JGR) is one of the premier organizations in NASCAR, currently fielding three NASCAR Sprint Cup Series teams, three NASCAR Nationwide Series teams and a driver development program. Its driver lineup consists of Denny Hamlin, Kyle Busch and Joey Logano in the Sprint Cup Series, while Brian Scott joins those three in the Nationwide Series along with Michael McDowell, Drew Herring, and Ryan Truex. JGR also boasts Darrell Wallace, Jr. in its driver development program and he will compete in the 2012 K&N Pro Series East and the Nationwide Series. Based in Huntersville, N.C., and owned by Joe Gibbs – a three-time Super Bowl winner as head coach of the Washington Redskins and a member of the Pro Football Hall of Fame – JGR has competed in NASCAR since 1992, winning three Cup Series championships, and three Nationwide Series owner's championship along with more than 150 NASCAR races, including three Brickyard 400s and the 1993 Daytona 500.
About FleetLocate by ProconGPS, Inc.
FleetLocate is a powerful, flexible and scalable GPS Trailer Tracking and Monitoring System that provides continuous real-time visibility of large, geographically disperse fleets. Featuring exception-base reporting, FleetLocate is an effective tool for improving operational efficiency, increasing the number of loads per trailer, reducing the need and associated costs for rental trailers and driving more revenue. The interface is simple to use, easy to navigate, and provides a comprehensive suite of reports designed to help businesses better manage their fleet operations and address many of the operational dilemmas they face daily. To learn more, visit http://www.fleetlocate.com
About ProconGPS, Inc.
ProconGPS, Inc., headquartered in Knoxville, TN, is a leading service provider of MRM products and services designed to help businesses better locate and control their assets worldwide. ProconGPS, Inc. has expertise in integrating products, content, communication networks, map databases, and service technologies to deliver business intelligence. With leading market positions in the Subprime Automotive Finance industry, Local Fleet, Trailer Tracking Management and Enterprise Fleet markets, ProconGPS, Inc. specializes in developing strong business relationships with leading companies worldwide, enabling it to offer world-class risk mitigation and location based services to its customers. ProconGPS, Inc.'s patented array of GPS products, call center systems, commercial tracking platforms, web tracking platforms, telephony solutions and customer service systems offer a fully integrated solution to its partners. For additional information, please visit ProconGPS, Inc.'s website at http://www.procongps.com.
Contact:
Corinna Tutor
949-422-7103
corinnat(at)procongps(dot)com