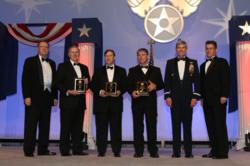 Draper pioneered the development of gun-fired guided munitions in the 1990s.
CAMBRIDGE, MA (PRWEB) March 15, 2012
The Central Florida Chapter of the Air Force Association (AFA) honored Draper Laboratory for its pioneering work in the field of guided munitions during a Feb. 24 ceremony in Orlando, Fla.
Gen. Norton Schwartz, chief of staff of the U.S. Air Force, presented AFA's Jimmy Doolittle Educational Fellowship to James Shields, Draper's president. The fellowship recognizes "the many men and women who have supported the Air Force and the Air Force Association from their inception," according to AFA's website.
AFA is a non-profit professional military and aerospace education association promoting public understanding of aerospace power and the role it plays in national security.
Draper pioneered the development of gun-fired guided munitions in the 1990s. The technology was enabled by the development of Microelectromechanical Systems (MEMS) gyros and accelerometers that were inherently rugged against launch accelerations and provided accurate measurement of body rates and accelerations to enable stability control. The outputs from these instruments were also integrated with GPS receivers to enable accurate navigation of the projectile to preselected target locations.
After demonstrating the technology with the Extended Range Guided Munitions Program, Draper has matured it under funding from a number of different Defense Department agencies. After licensing the technology to Honeywell, Draper worked with them on the Common Guidance Inertial Measurement Unit Program to develop a suite of g-hardened components that form the basis for Honeywell's products that are fielded in a number of guided munitions including Excalibur, Hellfire and the Air Force's Small Diameter Bomb (SDB). The SDB is the specific application for which Draper was recognized by the Air Force Association, who also made awards to the SDB development contractor, Raytheon Missile Systems, and the Air Force Research Laboratory's Munitions Directorate that managed the early stages of development of this technology. Expectations are the technology will continue to be applied in the further development and fielding of precision missile and gun fired munitions systems.
Draper Laboratory
Draper Laboratory is a not-for-profit, engineering research and development organization dedicated to solving critical national problems in national security, space systems, biomedical systems, and energy. Core capabilities include guidance, navigation and control; miniature low power systems; highly reliable complex systems; information and decision systems; autonomous systems; biomedical and chemical systems; and secure networks and communications.