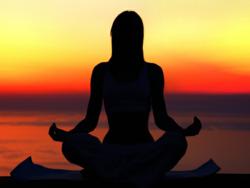 San Diego, CA (PRWEB) March 21, 2012
Beginning April 27, Radiance Yoga, San Diego, will offer an eight-week workshop in Mindfulness, Yoga & Stress Reduction on Friday evenings at their Mission Hills studio. Participants in the "experiential" workshop will cultivate awareness of stress reactions and practice mindfulness and Yoga to improve their coping skills.
Mindfulness is described as being aware of the experience of the present moment in a non-judgmental way, while practicing the art of compassion. The workshop is for novices as well as experienced students.
"Our goal is to help our students learn to release tension and increase their energy levels," said Aura Fetcher, owner of Radiance Yoga, San Diego. "Through mindfulness, meditation, and Yoga, participants in this program will learn to be present, and find more joy, creativity, and happiness in their lives."
Amy Holte, Ph.D., M.Ed. and Lorraine M. Hobbs, M.A., CHom., who are both professors at the UCSD Center for Mindfulness, will be teaching the workshop.
Dr. Holte has been studying and practicing mindfulness and Yoga since 1997. She completed her doctoral research on meditation and the brain, drawing from ancient texts and current neuroscience research. She teaches Mindfulness-Based Stress Reduction (MSBR).
Lorraine Hobbs, M.A., CHom., currently is the Youth and Family Program director at the UCSD Center for Mindfulness where she runs a Mindfulness-based Stress Reduction Program. She is a certified Iyengar Yoga instructor and homeopathic practitioner.
The Mindfulness, Yoga & Stress Reduction Workshop will be held April 27 through June 29, 2012 on Friday evenings from 5 p.m. to 7:30 p.m. at the Radiance Yoga Center, 1612 West Lewis Street, San Diego, CA 92103. For more information, visit http://www.radyoga.com or call Radiance Yoga San Diego at 619-299-1443.
About Radiance Yoga
Radiance Yoga and Therapeutic Exercise Center is one of the leading Yoga studios in San Diego County. Located in the charming and historic community of Mission Hills, Radiance Yoga was established in 1975 and continues to be family owned and operated. They have an experienced and dedicated staff, many of whom have an extensive background in biomechanics, orthopedics, and Yoga therapy.