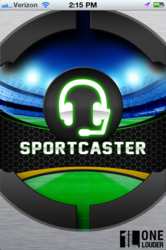 SportCaster is the absolute must have app for any sports fan.
Kansas City, MO (PRWEB) March 14, 2012
OneLouder today announced a major update to its SportCaster app for Android and iOS. SportCaster 4.0 adds coverage for the 2012 NCAA Basketball Tournament, Baseball (MLB), Soccer (MLS) and eight major European Football (Soccer) leagues, as well as a variety of performance enhancements. The new 4.0 version is a free upgrade for current users. New users can download the app free for the iPhone and iPod touch on the App Store or for Android smartphones on Google Play (formerly Android Market).
"SportCaster is the absolute must have app for any sports fan," said Evan Conway, OneLouder President. "It is the best way to track games and sports info, while delivering a unique live commentary engine you won't find anywhere else."
SportCaster is the world's top rated live sports app with a social voice. It is the first and only app to bring together the fastest scores, stats, schedules, game summaries and more with unique live commentary from the best sports analysts, players and fans on Twitter.
The live commentary feature leverages OneLouder's content curation platform to instantly connect fans with the most relevant, real-time Twitter content – even if they don't have a Twitter account. SportCaster delivers tailored comments that are the most relevant, not simply a key word search. This gives fans a quality play-by-play account of the game with a side by side stream of tweets from specially selected analysts, players and fans before, during and after a game.
SportCaster 4.0 now supports coverage for the NFL, NCAA football, NBA, NCAA basketball, NHL, NASCAR, Formula 1, MLB, MLS and eight European Soccer/Football leagues, including:

Major League Soccer (MLS)
Champions League (CHLG)
Premier League (EPL)
La Liga (LIGA)
Scottish Premier (SCOT)
Bundesliga (BUND)
Ligue 1 (FRAN)
Serie A (SERI)
Europa League (UEFA)
Recent updates to SportCaster have also included speed and performance enhancements, game recaps, and more detailed player and team stats.
For more information, visit http://www.sportcasterapp.com or http://www.onelouder.com.
About OneLouder:
OneLouder is a leading mobile app developer focused on simplifying and organizing social content on mobile devices. The company powers a wide range of socially-powered apps including TweetCaster, the world's #1 third party Twitter app, FriendCaster, SportCaster, ChannelCaster, BaconReader, and 1Weather. For more information visit http://www.onelouder.com; follow us on Twitter and become a fan on Facebook.