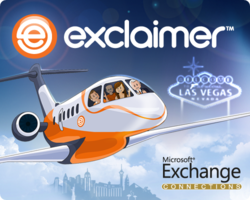 We've felt this frustration too - and we've already solved it for 37 million users.
(PRWEB UK) 19 March 2012
Exclaimer announces its showcase at Exchange Connections today, putting its Exchange, Outlook and Office 365 signature software on display.
'Email signatures can eat up a lot of time or cause a lot of embarrassment but they're rarely given much thought,' said Chris Crawshay, Exclaimer CIO.
'Even in a 40-user business, changing an email signature by hand or by copy/pasting is a pain – especially if staff mess up the formatting or their own contact details.
'With a few seconds and a couple of clicks, software can change all that – and give OWA, iPad and smartphone emails a signature too.'
Exclaimer say they're giving away their unique 38-page guide to better email signatures, their 'Server Dude' t-shirts and USB wristbands not just to entertain, but inform.
Learning from graphic designers, web developers and their own users, Exclaimer's full-length codex explains how to create and maintain signatures that work, in every sense of the word – visually, technically, professionally.
Exclaimer Signature Manager and Exclaimer Mail Disclaimers can update everyone's email signature instantly and even autocomplete them with names and contact details from the Active Directory.
'We have developers who worked for Microsoft and Lotus, testers who were admins at P&G and General Mills,' said Jamie Akers, Exclaimer QA engineer, 'we've felt this frustration ourselves and we've already solved it for 37 million users.
'Users want it taken care of simply and quickly but with zero risk: software should be as sturdy as updating them manually – minus all the errors and the effort.'
Exclaimer will be on stand 518 at Exchange Connections, where users can ask more about the software, see demos, get guides and other content.
Exclaimer's CEO Andrew Millington urged, 'We'll have software advisors, our marketing staff and more on the stand – and I'll be there too.
'If they want to know more about Exclaimer and what we do – this is the place to be.'