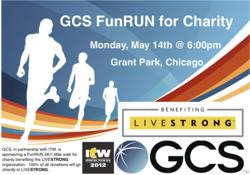 New York, NY (PRWEB) March 15, 2012
Global Convergence Solutions, Inc., a pioneer in next generation technologies for the global communications marketplace, today announced that it is sponsoring a charity event to coincide with the International Telecoms Week (ITW) Trade Show occurring May 14-May 16 in Chicago, Illinois. The event is sponsored by GCS, in partnership with ITW, and will benefit the LIVESTRONG charity organization. The LIVESTRONG charity is a renowned organization that works to identify the issues faced by cancer survivors in order to comprehensively improve quality of life for members of the global cancer community.
The event, a 5K run or 1 Mile walk will be held on Monday, May 14, 2012 at 6:00pm near Grant Park Chicago. GCS is sponsoring the entire event, which means 100% of all donations will go directly to the charity. According to Neal Axelrad, CEO of GCS, " When we started GCS 5+ years ago, we always knew we wanted to create a company that would allow us to participate in charitable events. Fortunately, with the success we have had, we are now in a position to sponsor the entire event and we couldn't be happier to do it." He continued, " The fact that we are able to do this for the benefit of LIVESTRONG makes our efforts all the more meaningful. The global telecommunications industry is filled with terrific people, most of which have been touched in some way by cancer either through a loved one, friend or colleague. With this event, we hope to give everyone an opportunity to come together and join with LIVESTRONG in the fight to eradicate this disease".
GCS is sponsoring the event in partnership with ITW. The company has launched a web page for registration (http://www.globalconverge.com/funRun/index.php) and have connected to the LIVESTRONG fund raising site for donation processing.
The company has indicated that they will look to establish this as an annual charity event coinciding with future International Telecoms Week Trade Show events.