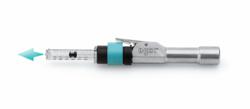 (PRWEB) March 20, 2012
INJEX Pharma AG is excited about the registration of INJEX Pharma USA in Miami, Florida.
Marketing and sales of the innovative injection without needle INJEX, is expected to begin in the spring 2012. Our new office is expected to open soon.
The USA market is huge, with more than 40 million diabetics, 250,000 dentists, 500,000 MD's and 180,000 beauticians. The new company will create strong affiliations with solid distribution partners in the US. Negotiations were started months ago and it is expected, that first orders will be delivered in the next months.
The INJEX 30 is a CE approved medical device and the company will announce shortly corporate news about the FDA 510(k) registration.
The new INJEX Pharma AG is headed by International Sales Director, Mr. Sylwin Grinman, who has been responsible for acquiring new exclusive distributor agreements, which was signed for in other big markets like China, India, Brazil, Canada etc…
According to Mr. Grinman:
"USA/ North America is a powerful market for any new and unique technology that wants to establish its potential in its respective marketplace.
We are blessed to have the Injex technology. This needle free injection system will create remarkable changes for all people who fear needles and alleviate the stress and anxiety associated with traditional needle and syringe. Its applications are numerous and constantly emerging, ranging from dentistry, doctors who use local anesthesia, cosmetology, diabetics who use insulin or other medication that is self-administered, such as growth hormones. Injex is a high technology device. It is simple, easy to use and will fit perfectly into the American lifestyle."