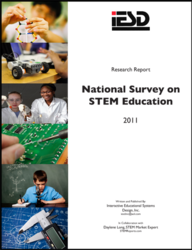 (PRWEB) March 15, 2012
Happy Birthday, Einstein! For all you CEOs, Marketers, and Product Developers that create products and services for the next generation of Einsteins, we are giving away a copy of the 2011 Survey on STEM Education (a $339 value). This offer is valid for one week, starting on March 14th through March 21st! We hope you find nuggets of information that help you drive business growth, develop marketing plans, and continue to educate the young geniuses we support.
The 2012 National Survey on STEM will be available by the end of March 2012 and is packed with even more essential data on the STEM market. This year's survey covers more topics and includes updates on funding priorities, areas projected for growth, the tablet and app market in STEM, and the types of professional development most valued by educators. The 2012 Survey also reports over 700 responses by STEM leaders detailing the types of technology and apps they would like to see developed for STEM education.
Go to http://www.stemreports.com to get a free copy of the 2011 National Survey on STEM.