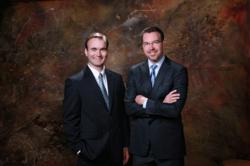 We created this blog to share our message, our knowledge, and our views on Insurance Bad Faith with the public
Riverside, California (PRWEB) March 16, 2012
The Riverside law firm of Albertson & Davidson, LLP launches the first legal blog focusing on Insurance Bad Faith Litigation in California. The site is geared towards insurance bad faith litigation, including lawsuits (called litigation) relating to insurance companies denying their customers valid insurance claims.
"We created this blog to share our message, our knowledge, and our views on Insurance Bad Faith issues with the public," says named partner Stewart R. Albertson. Albertson and his partner, Keith A. Davidson, take difficult cases that many law firms will not take. "We are always looking for ways to find value in a case so that we can help our clients" says Davidson.
According to Albertson, insurance bad faith happens all the time. Insurance companies wrongfully refuse to defend their customers in third party lawsuits filed against their customers. Additionally, insurance companies decide not to settle lawsuits, even when it is clear settlements benefit their customers. When an insurance company conducts itself this way, it is said to be acting in "Bad Faith."
Albertson and Davidson started their firm in 2008. Both litigate in the area of Trust and Estate litigation, with Albertson handling other areas of civil litigation, including Insurance Bad Faith.
"Our firm has grown by leaps and bounds from 2008 to today, and that is in a down economy" says Albertson. "This area of Insurance Bad Faith related lawsuits continues to grow with the natural disasters we face in California." Albertson is referring to earthquakes, floods and fires—risks that all Californians face on a daily basis. And the same would be true of automobile accidents and other personal injuries.
"Educating clients and our community is the key to understanding what duties an insurance company owes its customers" says Davidson. "And we are dedicated to educating as many people as we can on these important legal issues."
Albertson & Davidson, LLP are lawyers who believe in helping people resolve problems, thinking differently to resolve those problems and fighting for fairness and justice. Albertson & Davidson, LLP is located in Riverside, California and can be reached at (951) 686-5296, on the web at http://www.aldavlaw.com, and at their blog: http://www.californiainsurancebadfaithlitigation.com.