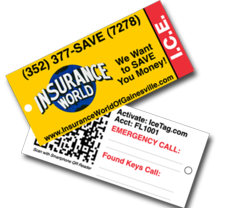 "If you or someone you love were in a serious accident tonight, how can you be sure you would be the one notified?
Gainesville, Fl (PRWEB) March 20, 2012
Are you prepared in case of an emergency ? Amid the chaos that can occur, would first responders be able to quickly find your medical information and know who to call? On January 29th, 2012 at 4:00 AM a combination of smoke and early morning fog caused a vicious pile up on I-75 outside of Gainesville that claimed the lives of 11 people and sent 18 others to local hospitals. Identifying family members in case of an emergency can be difficult, especially if your in-case-of-emergency (I.C.E.) contacts are located on your phone. After all, who knows where your mobile phone might be after a major crash like the deadly one on I75...if emergency workers find it, will it still work?
Insurance World of Gainesville, an independent insurance agency with a 30+ year history of community service is now providing a fail-safe backup solution and the best part is that it's completely free.
I.C.E. Key Tags - Simple and Effective
The I.C.E. protection system was created by ICE Keytags CEO, Tom Force and is made up of 3 components The key tag is the primary component but you also receive an EMS information form which resides in your glove box and can contain valuable life saving information that can be used by first responders. The third component is an optional window decal that can alert first responders to the presence of the form in your glove box. Having this simple system in place ensures that you are covered in case of an emergency, regardless of the status of your mobile device.
Tom asks, "If you or someone you love were in a serious accident tonight, how can you be sure you would be the one notified? The I.C.E. key tag system is a simple, low tech solution that is also highly effective."
The I.C.E. Protection System - Free for Florida Residents
Victor Hazy is known in Gainesville as an insurance expert. He writes the "Insurance Authority Blog", teaches insurance classes and has devoted his life to giving North Central Florida residents peace of mind and finding ways to say, "Yes!" even when other insurance agents say, "No!". His investment in the I.C.E. key tags is an extension of that devotion. Victor explains, "On our first call together, Tom the CEO of ICE key tags, told me how his elderly mother was hospitalized in Orlando. EMT's weren't able to notify the next of kin for seven long hours and by the time he and the rest of the family arrived she had slipped into a coma...and never recovered. That should never happen and our goal is to eliminate these delays."
You can get your I.C.E. key tags by stopping by Insurance World of Gainesville's main offices at 830 N.W. 13th Street in Gainesville, Florida. You can also request a key tag online at http://www.insurancewordofgainesville.com and follow the information located on the home page.
Insurance World started on 13th Street in Gainesville, Florida in 1980 with the goal of helping all the generations in their clients families with their insurance needs: auto, mobile home, life or health insurance. They accomplish their goals by representing dozens of "A" rated insurance companies. "Our independence gets you a better deal !"