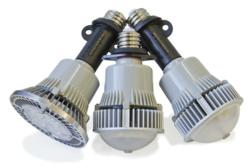 This is a great opportunity where mounting height and application are appropriate for our 50W Clearlight Beacon."
Seattle, WA (PRWEB) March 15, 2012
There are two new ways for Avista customers to save money when installing Evluma LED Retrofits. Evluma 50W LED Clearlights qualify for Avista's 2012 Commercial Lighting Incentives and also qualify for Custom Project Proposals. Only products that are pre-qualified by the Lighting Design Lab (LDL), or Design Lights Consortium (DLC) qualify for Avista rebates.Evluma Clearlights are qualified by the LDL. Avista's Commercial Lighting Incentives program includes multiple retrofit categories from T12 up to 1000W HID. According to the Outside Prescriptive Worksheet, the Evluma exchange is for 250W HID exterior dusk-till-dawn fixtures.
Avista customers can swap out an existing 250 Watt HID bulb for a 50W Evluma Clearlight and receive a $200.00 incentive per unit after filling out the Commercial Lighting Incentive Agreement for the Interior and Exterior Lighting Program. "This is a great opportunity where mounting height and application are appropriate for our 50W Clearlight Beacon," said David Tanonis, VP of Sales and Marketing at Evluma. Rebates are issued against the cumulative cost of materials, labor and disposal of the old bulb. The form can be filled out up to 90 days after the project is complete, but must include , a picture of the old lamp number, sample of fixture or fixture removed and; before and after photos of the project.
Avista customers that want to replace an existing 150W HPS or 175W MV bulb with either the 40W or 50W Clearlight can fill out a Custom Project Form and submit it to their regional Avista Account Executive prior to performing the exchange. An Avista Engineering team reviews the project before install to see if the project qualifies for an incentive. Custom Projects are site specific and the incentive may not exceed 50% of the total project cost. Contact your Avista Account Executive to obtain the correct forms.
"Incentives like the rebates offered by organizations such as Avista, BPA, Tri-State and Efficiency Vermont reinforce the importance of energy efficiency to the future," said David. "Clearights can be used to retrofit traditional dusk-till-dawn fixtures, but can also be used to retrofit Ballast-in-Arm fixtures, which are popular in the Northwest." Avista rebates are re-evaluated every year and are subject to change.