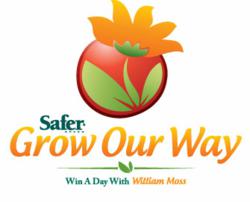 Organic gardening and sustainability continue to rise in popularity, and more and more people are growing their own fruits and vegetables at home.
Lititz, PA (PRWEB) March 15, 2012
Safer® Brand, manufacturer of organic gardening and pest control products, has launched Grow Our Way, a program promoting the awareness of organic gardening and sustainable living.
The arrival of spring has gardening consumers commencing their seasonal rituals for lawn care, vegetable and fruit planting, and pest control. Many of these consumers will take an organic approach to garden care, continuing the ever-growing interest in sustainable living. According to the National Gardening Association, over 10 million U.S. households use all-natural gardening methods for their lawn or landscape. This translates to $2.2 billion in sales for natural/organic fertilizers, insect and weed controls.
Increased consumer interest in organic gardening has also led to more choices when it comes to purchasing organic products. "Organic gardening and sustainability continue to rise in popularity, and more and more people are growing their own fruits and vegetables at home," says William Moss, media personality and Safer® Brand's Master Gardener. "But a lot of people have questions and they don't know where to begin."
Safer® Brand's Grow Our Way program features a website, http://www.GrowOurWay.com, with several tools that give consumers a greater understanding of best practices for organic gardening and living a sustainable lifestyle:

OMRI® Listed 'Know-How' – A section that provides information about how OMRI®, the Organic Materials Review Institute, tests and validates products to make sure they meet organic standards. Consumers will also learn how to recognize OMRI®-certified products on store shelves. Safer® Brand features over 30 products that possess the prestigious OMRI® Listed seal, which is more than five times that of the closest competitor.
Interactive Organic Map – Organic enthusiasts can upload photos showing how they live organically, and can also post tips and ideas for living and gardening organically.
Video Library – Master Gardener and media personality William Moss shares his expert advice through several how-to videos about organic vegetable gardening, organic rose care, container planting, and more.
Coaching Session – Enthusiasts can enter the "Grow Your Way Sweepstakes" to win a personal coaching session from William Moss or products from Safer® Brand.
Online Store – Exclusive offers are available through the Safer® Brand online store, and consumers have access to the Help & Advice section to learn more about available products for garden care, lawn care, pest control, and houseplant care.
About Safer® Brand
The world leader in organic insect control, organic plant disease control and organic gardening products for over 20 years, Safer® Brand offers the broadest and deepest selection of quality insect control and plant disease control products at competitive prices. The company is a division of Woodstream Corporation. Learn more and see the entire line of Safer® Brand products at http://www.SaferBrand.com.