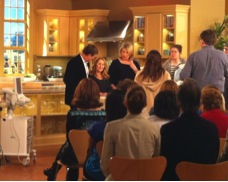 Patients at Leif Rogers, MD, FACS, regularly rave about their dramatic Ultherapy results, as those shown on the Martha Stewart Show.
Beverly Hills, CA (PRWEB) March 14, 2012
The non-surgical skin tightening treatment, Ultherapy, was featured on The Martha Stewart Show on The Hallmark Channel on Wednesday, March 14 at 10:00 AM for 'The Skin Show.' In the segment, the show's producer was treated for an all-about-Ultherapy session. The piece features snippets from the producer's treatment and her big unveiling, as she and Martha rave about her results in-studio.
The Beverly Hills office of Leif Rogers, MD, FACS Plastic and Reconstructive Surgery is one of the first to offer Ultherapy and has treated dozens of patients, all whom have had great success in significantly reducing the appearance of lax, sagging skin on the face and neck after only one to two sessions of about one hour each. Dr. Rogers is proud to offer Ultherapy, the industry's leading non-surgical treatment to tighten, tone, and firm the forehead, brows, eyes, cheeks, jowls, and neck with virtually no down-time.
About Dr. Rogers
Leif Rogers, MD, FACS, is an Ivy League graduate of Columbia University, College of Physicians and Surgeons, and is certified in plastic and reconstructive surgery by the American Board of Plastic Surgery. His Beverly Hills office consists of three practice areas, reconstructive surgery, cosmetic surgery, and non-surgical treatments. His non-surgical practice delivers the latest, FDA approved solutions for skin rejuvenation and body contouring. State-of-the-art treatments like Ultherapy and CO2 are used to rejuvenate the face and neck, and VaserShape and Liposonix are used to tone and reduce fat and cellulite in the body. Dr. Rogers carefully listens to his patient's needs and performs non-surgical treatments either in isolation, or in combination with other non-invasive procedures and/or cosmetic surgery to achieve their desired results. Dr. Rogers also routinely performs reconstructive surgery, and is one of few surgeons in the U.S. to master the DIEP Flap technique for breast reconstruction after mastectomy.
About Ultherapy
Ulthera®, Inc. is a global, commercial-stage medical device company pioneering aesthetic and medical applications using its therapeutic ultrasound platform technology. The Ulthera® System is the first and only energy-based device to receive FDA clearance for a non-invasive aesthetic lift indication. The first application for Ultherapy® – the procedure enabled by the System – is a non-invasive face and neck treatment to achieve a brow lift.