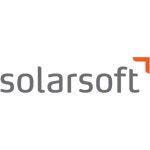 These partnerships strengthen our position as a leading provider of software solutions which help manufacturers connect their enterprise from the top floor to the shop floor
Cincinnati, Ohio (PRWEB) March 20, 2012
Solarsoft Business Systems, a leading provider of enterprise software and IT services to manufacturers worldwide, is pleased to announce that its strategic initiative to expand operations in Latin America will officially launch this April at NPE2012, the International Plastics Showcase in Florida. A key part of this initiative is to establish new partnerships to provide local sales and support for Solarsoft's ERP, manufacturing execution and manufacturing intelligence software.
Among Solarsoft's new partners is Integsa, an experienced provider of value-added services for business software and information systems. With offices in Mexico City and Monterrey, Integsa will provide local sales, implementation, training and technical support for Solarsoft's real-time manufacturing execution and production monitoring system, Mattec MES. For more than 10 years, Integsa has provided infrastructure, security, communication, data center and support services to the local manufacturing industry.
"The experience of Solarsoft's people and quality of their products made it an easy decision for Integsa to partner with Solarsoft," says Ali Karim Said, General Manager of Integsa. "Our goal is to help manufacturers seamlessly integrate Solarsoft's manufacturing execution system and provide excellent technical support."
Solarsoft has also partnered with Conseil Solutions, a specialist in Business and Information Technology solutions and Professional Services. Conseil Solutions, based in Mexico City and Querétaro, has more than 28 years of experience implementing ERP solutions across all Latin-American countries. Conseil Solutions will provide local sales, implementation, training and technical support for Solarsoft's flagship ERP system for discrete manufacturing, Solarsoft iVP.
"Our alliance with Solarsoft strengthens our business strategy to provide consolidated sales and professional services to the local and international automotive and discrete manufacturing industries," says Valentin Trujillo, CEO and Owner of Conseil Solutions.
"We're excited to announce our expansion in Latin America and we look forward to recruiting more great partners like Integsa and Conseil Solutions," says Andy Amalfitano, General Manager, Manufacturing Execution and Intelligence Division at Solarsoft. "These partnerships strengthen our position as a leading provider of software solutions which help manufacturers connect their enterprise from the top floor to the shop floor."
About Solarsoft Business Systems
Solarsoft provides modern enterprise software and IT services to manufacturers, distributors and wholesale businesses worldwide. The company has grown organically and through acquisition since 1986 and has worldwide revenues of US$100 million. Solarsoft employs more than 400 professionals providing local support across 16 time zones. More than 2,000 companies rely on Solarsoft to bring clarity and efficiency to their daily operations. For more information please visit http://www.solarsoft.com.