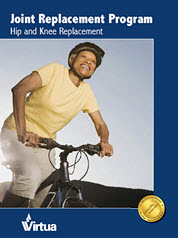 There is no longer a 'right age' for joint replacement.
Marlton, NJ (PRWEB) March 14, 2012
Joint replacement surgery techniques, and the replacement joints used during procedures, have changed dramatically in recent years. With these new developments, there are some important considerations to be aware of before undergoing hip or knee joint replacement known as arthroplasty.
No "Right Age" For Joint Replacement
Today's replacement joint implants are much more durable than in the past, providing support and ease of movement for 15 to 20 years or more, meaning that patients can consider surgery at a much younger age. With the extended durability of these new implants, there is no longer a "right age" for joint replacement. In fact, the fastest growing age group for joint replacement surgery is patients from the ages of 45 to 55.
Experience Matters
When choosing a facility and surgeon to perform joint replacement surgery, it is important to consider the surgical team's experience. Patients who receive joint replacements at hospitals with low surgical volume have a higher risk of complications after surgery. Prospective joint replacement patients are also encouraged to seek out a surgical facility with highly skilled surgeons who specialize in joint replacement procedures. Another important consideration should be to choose a surgeon who is directly involved in the patient's care before, during, and after the surgery and who actually performs the surgery rather than a surgeon in training At the Virtua Joint Replacement Institute, the surgical team has performed thousands of these procedures and all surgeries are performed by Fellowship-trained orthopedic surgeons.
The Joint Replacement Procedure
Traditional "open" joint replacement surgeries utilize larger incisions, and require cutting through large amounts of tissue and muscle. A newer minimally invasive replacement procedure—pioneered by Virtua—uses smaller incisions, thus reducing trauma to the surrounding tissue. For total knee replacement, the surgeons at the Virtua Joint Replacement Institute use the "quad-sparing technique," eliminating the need to cut the quadriceps tendon, which in turn can lead to less post-surgery pain than a traditional procedure, as well as a significant decrease in recovery time.
Blood Loss
A minimally invasive procedure utilizing smaller incisions can decrease blood loss, making blood transfusions rare, and speed the road to recovery.
Pain
Recovery from traditional joint replacement surgery can be a painful experience due to large incisions and tissue trauma during surgery. A minimally invasive joint replacement procedure avoids cutting the largest tendon of the knee and results in a smaller incision, reducing pain post-surgery.
Infection
As with any surgery, infection can occur after joint replacement surgery. Prospective patients are encouraged to schedule their surgical procedure in a joint replacement-accredited facility that uses the latest implants, and with highly experienced surgeons. Patients should also investigate their surgical facility's record with regard to infection control, to determine if safeguards are in place to prevent, identify and treat infection after surgery.
Recovery Time
Minimally invasive joint replacement surgery often allows for same-day total knee replacement and faster recovery than traditional joint replacement surgery. By discharging most patients to the comfort of their own home soon after surgery and providing aggressive pain management and follow-up rehabilitation services, patients can return to normal activities more quickly and with less pain than is possible with traditional joint replacement surgery.
Rehabilitation
If not rehabilitated properly, a replacement hip or knee might not heal correctly, limiting range of movement or even causing a limp. Patients are encouraged to work with a surgical team and facility where rehabilitation education starts before surgery, and rehabilitation starts the same day of surgery, continuing after the patient leaves the hospital. This proactive approach can shorten recovery time from months to weeks, allowing patients to get back to work and normal activities more quickly.
Rehabiltation Services
Studies have shown that the faster patients are able to get on their feet after surgery, the easier their recovery will be. Virtua has two state-of-art rehabilitation centers and seven state-of-the-art outpatient rehabilitation centers. They also offer classes to enhance the surgical experience, from pre-surgical preparation to discharge planning. If you do not live near a Virtua service, Virtua will help you find a certified rehab service closer to home.(http://virtua.org/health/joint-replacement/resources.aspx)
The Virtua Joint Replacement Institute
The Virtua Joint Replacement Institute strives to support patients from surgery preparation to rehabilitation. For more information about your options or the TheVirtua Joint Replacement Institute, visit GotMyLifeBack.org or call us at 1-855-VIRTUA-3.