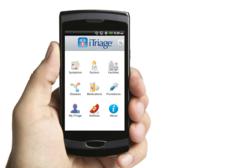 Mobile technology is transforming the health care industry, and tools like CUDoctors.com and iTriage provide patients with resources to make informed decisions when they have a medical need
Denver, CO (PRWEB) March 14, 2012
Patients, in increasing numbers, are using online and mobile resources to conduct health research, according to a 2011 Pew Research Report and the 2010 Pew Research Center's Internet & American Project. Physicians with University of Colorado School of Medicine recently collaborated with iTriage®, a free health care mobile application (app) that lets users access medical and physician information from the palm of their hand. By combining the mobility of iTriage® with the utility of CUdoctors.com - an online resource dedicated to helping patients find a doctor at the University of Colorado School of Medicine, patients will more easily connect with CU School of Medicine physicians on the web and on their Smartphones.
This collaboration with iTriage allows physicians with the CU School of Medicine, like Dr. Vikas Patel, MD, Chief of Orthopedic Spine Surgery at the University of Colorado, to provide patients with detailed information about his areas of expertise and care philosophy, as well as a link to his http://www.CUdoctors.com profile. This allows patients to easily find a physician that meets their specific medical needs.
"Mobile technology is transforming the health care industry, and tools like CUDoctors.com and iTriage provide patients with resources to make informed decisions when they have a medical need," said Dr. Patel.
The University of Colorado School of Medicine physicians practice at the University of Colorado Hospital, Children's Hospital Colorado and other affiliated hospitals and clinics in the Rocky Mountain Region. The iTriage health application gives residents and visitors in Denver, Aurora, Boulder, and surrounding communities immediate access to information about symptoms, diseases and treatment options.
Currently the iTriage mobile platform lists more than 1,700 CU Doctors to give patients greater access to medical information and specialties. The featured doctors include physicians in the following specialties:

Family Medicine
Breast Disease
Orthopedics/Sports Medicine
Spine Surgery
Physical Medicine and Rehabilitation
Neurosurgery
General Cardiology and Advanced Heart Failure
Genitourinary Disease
Urology
"When health care providers put useful information into the palm of their patients hands with iTriage, consumers are empowered to make informed decisions about where they will seek care for their medical condition," said Peter Hudson, MD, Co-founder of iTriage. "We live in a new world that requires patients to be informed and responsible for their health and iTriage allows them to play a larger role in their health care."
iTriage is available as a free download through app stores for iPhone® and Android™ mobile devices; All other Web-enabled devices can access iTriage at http://www.iTriageHealth.com.
About CUDoctors.com
At CUdoctors.com, visitors can search and find information for more than 1,700 health care professionals at the University of Colorado School of Medicine. CUdoctors.com provides tools to search by keyword, name or hospital to find detailed information for doctors, ranked among the best nationally by U.S. News & World Report and locally by Denver's 5280 magazine. Patients who use CUdoctors.com can connect with doctors who provide comprehensive care in a broad range of specialties from primary care to cancer to cardiology. CU doctors work on the Anschutz Medical Campus in Aurora, Colorado - one of the largest and most advanced academic medical campuses in the country. For more information, please visit http://www.CUdoctors.com.
About iTriage, LLC
Headquartered in Denver, CO, iTriage LLC is a global health care technology company founded in 2008 by two emergency medicine physicians. The company's mobile platform and application, iTriage, offers a proprietary Symptom-to-Provider™ pathway that empowers patients to make better healthcare decisions. iTriage helps people answer the two most common medical questions: "What could be wrong?" and "Where should I go for treatment?" Millions of consumers around the globe have downloaded the free iTriage mobile app on their iPhone and Android devices, and thousands of healthcare providers use iTriage to reach and communicate critical facility and service information to patients. For more information, please visit http://about.iTriageHealth.com.