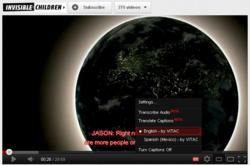 "We're proud to help Invisible Children bring it to viewers who rely on the captioning and subtitling"
Pittsburgh, PA (PRWEB) March 15, 2012
VITAC, the nation's largest closed captioning company, announced today that the company donated its services to provide captions and subtitles to Invisible Children, the organization behind the popular and powerful Kony 2012 campaign.
Kony 2012 launched on March 5th and within one day their 30-minute video had ten million views. Invisible Children had just started researching captioning solutions when VITAC marketing specialist Marie Hoffman reached out to the non-profit. "I wanted to make sure the 30 million Americans who are deaf and hard of hearing could access the viral and inspiring video," said the social media-savvy Hoffman.
The video is available on YouTube with English and Spanish captions, with French expected to follow Friday, March 16. "Thank you for your contribution to the cause," said production manager Heather Longerbeam. "Your subtitles will help this film make a bigger impact around the world."
Kony 2012 aims to make war criminal Joseph Kony famous, "not to celebrate him, but to raise support for his arrest and set a precedent for international justice." At time of release, the video has been viewed over 70 million times on YouTube alone. The movement was trending for over 24 hours on Twitter and caused a stir on Facebook, among celebrities, blogs, and in the news.
Noah Miles, an educator in Oregon, was moved by the video and plans on showing the video to his students, some of whom are deaf. "I'm teaching my students about social justice and this video fits in perfectly. Thank you for donating your captioning services to this very worthy cause," said Miles.
"It is humbling to see the impact of social media on this powerful message," said VITAC president Patricia Prozzi. "We're proud to help Invisible Children bring their campaign to viewers who rely on the captioning and subtitling."
See the powerful video, with English and Spanish captions, here: http://www.youtube.com/watch?v=Y4MnpzG5Sqc&cc=1
To display the closed captions, click the red "cc" box that appears when you play the video.