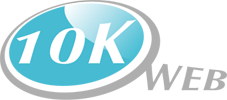 I wish to teach people all over the world how to build and maintain an effective website that enables each person's business to grow beyond their dreams and become financially free!
Newport Beach, CA (PRWEB) March 15, 2012
In response to the growing trend of individuals developing their own business ventures from home, 10kWeb offers its website building and blog resources for a low monthly rate along with the means to supplement one's income through its Partner Program.
A member using 10kWeb's Partner Program receives a dollar ($1) every month for every referral who signs up to use 10kWeb's services with the potential to earn upwards of $10,000 per month in passive income.
Members are not required to invite others to join in order to enjoy 10kWeb's resources. Groups of members or "Teams" are developed regardless through the marketing efforts of 10kWeb's staff and other members.
Individuals who use 10kWeb are given access to hundreds of web page formats, each of which can be customized to the tastes and preferences of the individual, guaranteeing that your blog or website will stand out among the millions already on the web.
To learn more about 10kWeb's Referral Program visit us at http://www.10kweb.com/get-paid-to-blog/
10k Web was created in January 2012 by Anthony Martins and Thomas Bang as an online resource for aspiring blog writers and small business owners. Their website launched on March 5th, 2012 and is currently used in the United States, Mexico, Great Britain and New Zealand with more markets in development.
###
If you would like more information about 10k Web or to schedule an interview with Anthony Martins or Thomas Bang, please contact us at press@10web.com.