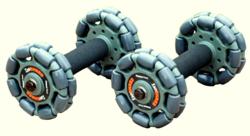 "The exercise variations with the IsoSHRED push up dumbbells are limitless, limited only by your imagination", Master Phillips
Seattle, WA (PRWEB) March 16, 2012
It is time to take your home workout beyond what any other fitness product can do. There are many different fitness regiments and products such as the PX90 workout system, the perfect push up, and ab roller. The latest home fitness product and group workout program, currently being tested by Master John Phillips a Tae Kwon Do black belt and certified personal trainer, is shaping up to be the greatest all inclusive fitness program the industry has seen yet. The program is designed for beginners, intermediates, and advanced fitness levels. People who are in shape and need a challenge and people who need to get in shape. "It is truly remarkable what IsoSHRED is bringing to the market. The exercises and workouts are limitless. No matter your fitness level you will experience great results", Master Phillips, Phillips Tae Kwon Do, Maple Valley, Wa. Watch the new IsoSHRED video with Master Phillips.
IsoSHRED push up bars are also gaining the respect of MMA trainers and fighters alike because they are perfectly suited to being a center piece of MMA training equipment. Eric Dahlberg, a Brazilian Jiu Jitsu black belt and professional Mix Martial Arts trainer is also evaluating the benefits of the IsoSHRED Push Up Dumbbells at Ring Deamon MMA. Although other push up stands and similar equipment that concentrate on isolating muscle groups to provide stimulus in muscles one-by-one can be effective for some goals, they are poorly designed for MMA. By contrast, the IsoSHRED push up equipment offers the benefits of upper body exercise, abdominal training, hand-eye coordination and balance all at once. The simultaneous stimulation provided by the equipment makes it particularly effective for MMA training, where fighters are challenged to use muscle groups in conjunction with one another, not separately. Part of mastering MMA is training one's body to work as a complete unit, and the IsoSHRED equipment does just that.
The IsoSHRED home fitness equipment does more than abdominal equipment or standard push up bars because it requires more muscles to work together, increasing the intensity of the workouts. This means people can get more done in less time, allowing them to quickly and effectively get the workout they desire. Additionally, the efficient nature of the IsoSHRED equipment allows people to make larger improvements regardless of their fitness level. "For what it is designed to do, the IsoSHRED is second to none",Flawless Fitness Review
The IsoSHRED push up equipment takes up very little room, so even those traveling or with limited resources can gain a powerful edge through the use of these push up bars. IsoSHRED bars are the only push up bars that can move in all directions, allowing for an unmatched quality of workouts and unparalleled muscle stimulation. From the chest and abdominals to shoulders, lats, back and arms, the IsoSHRED push up equipment leaves no area untrained.
Whether you are in great shape and need a new challenge or need to get into shape, IsoSHRED Push Up Dumbbells can provide the perfect push up and abdominal workout for you.