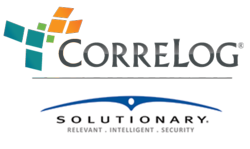 The partnership with Solutionary may be the most strategic agreement since our inception.
Naples, FL (PRWEB) March 19, 2012
CorreLog, the leader in software solutions for IT security event correlation, today announced a strategic partnership with managed security service provider (MSSP) Solutionary, Inc. The partnership, combining Solutionary's cloud-based IT security monitoring with CorreLog's cross-platform log management collecting capability, will provide clients with proactive threat detection and compliance from any device on any platform regardless of physical or virtual instance. Solutionary has been providing cloud-based IT security with its ActiveGuard® platform for more than 10 years, taking log feeds from physical and virtual applications and devices. The natural fit with CorreLog lies in CorreLog's agent-based log collector technology that receives log files in real time from Windows, Linux, UNIX, IBM z/OS, RACF and CA's ACF2 and Top Secret.
The partnership provides CorreLog a gateway into the IT security cloud space with Solutionary, an industry innovator positioned as a leader on Gartner's most recent Magic Quadrant for MSSPs, North America. CorreLog, listed on Gartner's Magic Quadrant for SIEM, has produced software and framework components successfully since 2000 to commercial and government entities worldwide.
"The partnership with Solutionary may be the most strategic agreement since our inception," said George Faucher, CorreLog president and CEO. "Cloud computing is the way of the future but the public sector will still have both legacy and cloud systems for years to come, meaning our customers are going to need to monitor a wide swath of both physical and virtual event log activity. The Solutionary partnership will provide the best of both worlds."
CorreLog and Solutionary do have a partner co-deployment with a major North American electronics manufacturer. The commonality of industry verticals for the CorreLog and Solutionary partnership will lead to primary industry targets in finance, government, health care, and insurance. For more information on the partner solution offering, please visit http://www.correlog.com, or email info(at)correlog(dot)com.
About CorreLog:
CorreLog, Inc. is the leading independent software vendor (ISV) for IT security log management and event correlation. CorreLog's flagship product, the CorreLog Enterprise Server, combines log management, Syslog, Syslog-NG, SNMP, auto-learning functions, neural network modeling, proprietary semantic correlation, automated help-desk ticketing and reporting functions into a unique multi-platform security solution. CorreLog Enterprise Server operates across Windows, UNIX, Linux and mainframe platforms, shipping with an out-of-box PCI DSS compliant CorreLog agent for IBM z/OS, the world's most popular mainframe operating system.
CorreLog delivers an essential viewpoint via dashboard console, providing verifiable and actionable information on the activity of users, devices, and applications to proactively meet organizational SLAs and regulatory requirements. Additionally, CorreLog automatically identifies and responds to any suspicious behavior, network attacks, or policy violations by indexing and correlating user activity and event logs, then archives the data in an enterprise server system location. This allows customer organizations to quickly identify then proactively respond to compliance violations, policy breaches, cyber-attacks and insider threats. For auditing and forensics, CorreLog facilitates regulatory requirements set forth by PCI DSS, HIPAA, SOX, FISMA, NERC, NCUA, and many other standards. CorreLog markets its solutions through both direct and indirect partner channels.
http://www.correlog.com/library
About Solutionary:
Solutionary is the leading pure-play managed security services provider (MSSP). Solutionary reduces the information security and compliance burden, delivering flexible managed security services that align with client goals, enhancing organizations' existing security program, infrastructure and personnel. The company's services are based on experienced security professionals, global threat intelligence from the Solutionary Engineering Research Team (SERT) and the patented ActiveGuard® service platform. Solutionary works as an extension of clients' internal teams, providing industry-leading customer service, patented technology, thought leadership, years of innovation and proprietary certifications that exceed industry standards. This client focus and dedication to customer service has enabled Solutionary to boast a client retention rate of over 98%. Solutionary provides 24/7 services to mid-market and global, enterprise clients through two security operations centers (SOCs) in North America. For more information, visit http://www.solutionary.com.
Copyright © 2012, CorreLog, Inc. All rights reserved.
All trademarks and registered trademarks used herein are the properties of their respective owners.