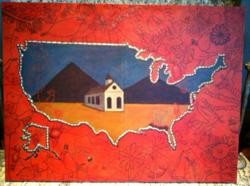 "I wanted to be a part of the night's success and with the down economy I thought since I can't write a check, I'll create a painting for the auction. It was the most rewarding experience I have achieved as an artist" Stated, Houghtaling
Portland, Oregon (PRWEB) March 15, 2012
Local artist, realtor and children's book author Jeff Houghtaling joined efforts with over 80 children to create a unique painting for Ainsworth Elementary auction that took the lead and raised over $6000.
"I wanted to be a part of the night's success and with the down economy I thought since I can't write a check, I'll create a painting for the auction. It was the most rewarding experience I have achieved as an artist" Stated, Houghtaling.
Houghtaling's barn paintings hang in several Oregon homes however this painting entitled "Line Up," included the helping hands from over 80 children who anxiously donated their drawings to the large canvas. The theme was the birds and flowers of the United States. The collaborate efforts led to a montage of children's interpretations of state birds and flowers surrounding an outline of the United States and Houghtaling's signature minimalist building, a school house sitting in the middle. The 36 X 48 stole the night with enthusiastic parent's bidding the painting to a record $6,200.00
The Red Ball Auction, and Ainsworth Foundation consisting of education advocates supports Ainsworth Elementary and all of the Portland Public Schools. Two-thirds of the funds raised pays for teaching positions at Ainsworth and the remaining third supporting other schools through the Portland Schools Foundation.
The schools successfully raised 100K.