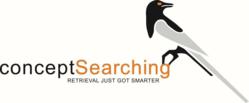 McLean, VA and Stevenage, UK (PRWEB) March 15, 2012
Concept Searching is pleased to announce that it will be exhibiting and speaking at the first annual North American SHARE conference in Atlanta, Georgia from Monday, April 23 to Thursday, April 26, 2012 and will be located in Booth 2.
Concept Searching is a global leader in semantic metadata generation, auto-classification, and taxonomy management software, and developer of the Smart Content Framework™, as well as the award winning conceptClassifier for SharePoint. In addition to exhibiting, Donald T. Miller, Commercial VP of Concept Searching, will be speaking on 'Mitigating Risk: The Importance of Information Governance – Real Life Stories'. And Lt. Col. David Sanchez, Deputy PM, US Air Force Pilot Physician Program will be speaking on how Concept Searching has used conceptClassifier for SharePoint in reducing organizational risk.
Don Miller's session, on 'Mitigating Risk: The Importance of Information Governance – Real Life Stories', will explore how both commercial and government clients have used the Smart Content Framework™ and the various building blocks to drive policy, process and control in SharePoint, around issues such as improving transparency and insight, eliminating sensitive information breaches and the preservation and protection of information in accordance with Records Management guidelines.
Lt. Col. David Sanchez's session topic is 'Reducing Organizational Risk through the Automatic Application of Metadata and Policies in SharePoint 2010'. Deploying SharePoint without defining, developing, and employing policies directly contributes to an increase in IT and financial risk to the enterprise. By associating organizational risk factors with SharePoint capabilities, program managers can obtain executive support and funding to successfully roll-out, maintain, and grow their information, knowledge, and records management programs. During this presentation, attendees will understand how the USAF is leveraging policy application in SharePoint as a valuable tool when it comes to developing program requirements and securing resources for the USAF Human Performance Clearinghouse.
Concept Searching is a partner at this year's SHARE conference and will be featured in the exhibition hall at Booth Number 2 from Monday, April 23 to Wednesday, April 25. SHARE 2012 features over 40 case study and keynote presentations from top SharePoint experts and thought-leaders. The conference offers an ideal environment for like-minded professionals to engage in important conversations, form lasting relationships, and discover innovative ways to use SharePoint to achieve business results.
Registration will remain open through April 18. For more information or if you would like to register, please visit the dedicated conference website at http://www.shareconference.com, or call The Eventful Group at 877-411-4675 or 914-509-5354.
Follow Concept Searching: http://www.twitter.com/conceptsearch
About Concept Searching
Founded in 2002, Concept Searching provides software products that deliver conceptual metadata generation, auto-classification, and powerful taxonomy management from the desktop to the enterprise. Concept Searching, developer of the Smart Content Framework™, provides organizations with a method to mitigate risk, automate processes, manage information, protect privacy, and address compliance issues. This information governance framework utilizes a set of technologies that encompasses the entire portfolio of information assets, resulting in increased organizational performance and agility.
Concept Searching is the only platform independent statistical metadata generation and classification software company in the world that uses concept extraction and compound term processing to significantly improve access to unstructured information. The Concept Searching Microsoft suite of technologies runs natively in SharePoint 2010, FAST, Windows Server 2008 R2 FCI, and in Microsoft Office applications.
Headquartered in the US with offices in the UK, South Africa and Canada, Concept Searching solves the problem of finding, organizing, and managing information capital far beyond search and retrieval. The technologies are being used to drive intelligent migration, enable effective records management, identify and lock down sensitive information and enhance governance. For more information about Concept Searching's solutions and technologies please visit http://www.conceptsearching.com.
About The Eventful Group
The Eventful Group is a worldwide conference producer that is dedicated to building and galvanizing thriving communities of common interest in two specialized domains: Enterprise Technology and Enterprise Asset Management. The company has offices in Syracuse, New York, Sydney, Australia and Cape Town, South Africa. To learn more, please visit: http://www.theeventfulgroup.com.
All product and company names herein may be trademarks of their respective owners.