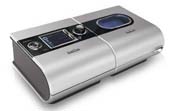 A Restfuly Sleep May Just Be a Phone Call Away
Houston, TX (PRWEB) March 15, 2012
Philips Respironics has recently released their newest addition to the REMstar family of CPAP machines. The REMstar Auto with Heated Tube is just the latest in a group of recently released machines which takes the treatment of sleep apnea to a new and more confortable level. The REMstar Auto CPAP machine along with the new ResMed S9 Series of CPAP machines are now available from Sleep Restfully, Inc.
Many people are unaware that their insomnia and sleepless nights may be a result of insufficient airflow. Tiredness, irritability, fatigue, and headaches upon waking up could be because the person is suffering from a sleep disorder called obstructive sleep apnea. Serious snoring is a problem that never should be ignored and consulting a specialist to investigate the causes is a sensible decision. If diagnosed with sleep apnea, a physician may recommend the use of a CPAP machine, which is a machine that provides 'Continuous Positive Air Pressure'. Surgery for a problem of this nature may be a last resort.
For the top quality brand names of all CPAP machine models on the market, you don't need to look any further than Sleep Restfully. They are the leading online supplier of top CPAP machine and accessories all available at excellent prices, all promptly shipped directly to a customer's door nationwide. If a doctor has recommended a CPAP machine to treat sleep apnea, take time to look through their website and see what they have available.
For many patients, using a CPAP machine has been found to be highly effective, although it does not cure the problem. Sleep Restfully offers an extensive variety of choices in aids for respiration, ensuring that you find the perfect fit for the condition. If CPAP treatment is recommended by a health professional, it is important to use it on a continual basis. This makes finding equipment that is comfortable important.
A potential sleep apnea sufferer will be evaluated by a doctor before the purchase of a CPAP machine and if they have symptoms of frequent waking up in the night, excessive daytime tiredness, headaches, bad snoring syndrome then they may be a prime candidate to get a CPAP machine. A doctor can help determine the best machine for the sleep apnea sufferer's needs, as well as the particular settings and configuration that will be needed.
Before a recommendation to use a CPAP machine a specialist will investigate the factors such as medical history, lifestyle factors (such as alcohol and tobacco intake as well as exercise), cardiovascular condition, and current medications. If someone suffering from the common sleep disorder called sleep apnea, or have other issues that cause inconsistent or intermittent breathing a CPAP machine may alleviate this problem without surgery.
Most people do not even know they have sleep Apnea but a partner may hear heavy snoring or notice restless sleeper. Going for tests will help the doctor decide whether there is a need for a CPAP machine. If a love one has been suffering restless sleep then discuss the problem with a doctor.
Sleep Restfully, Inc. prides itself on the high quality customer service it provides to Sleep Therapy and Oxygen customers. Sleep Restfully is proud to be rated by the Better Business with an "A" rating.. They carry a complete line of CPAP, BiPAP and VPAP machines as well as CPAP supplies by ResMed, Philips Respironics, Fisher & Paykel and other manufacturers. In addition to CPAP machines and CPAP supplies, Sleep Restfully is your portable oxygen concentrator specialist offering the best prices and support for portable oxygen concentrators such as the Respironics SimplyGo, Respironics EverGo, Sequal Eclipse 3, Inogen G2, Invacare XPO2 and more. They also sell stationary oxygen concentrators such as the Philips
Respironics EverFlo and Invacare Perfecto. Sleep Restfully, Inc. has been chosen as an Authorized Internet Provider for the new Philips Respironics SimplyGo Portable Oxygen Concentrator.
In addition, Sleep Restfully stocks all replacement parts for the CPAP machines and CPAP mask as well as replacement parts for all portable oxygen concentrators.
Sleep Restfully can be contacted on their toll free number (866) 923-2727, or by visiting our website sleeprestfully.com.