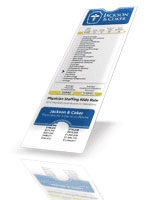 Alpharetta, GA (PRWEB) March 14, 2012
What is the relative value of different physician specialties to a hospital or medical practice? To help executives, administrators and others involved in physician employment answer this question, Jackson & Coker, 35-year veteran physician staffing firm, has published its latest physician compensation study covering 24 medical specialties. It is formatted as the "2012 Physician Contribution to Operations Calculator."
"This annual study is highly useful in forecasting revenue generated by different service lines, and we provide both an online and physical slide rule free to hospitals and physicians," mentioned Sandra Garrett, Jackson & Coker's President.
Each year, the firm collaborates with an outside, independent research organization in analyzing data compiled from a wide array of published sources. Presented in an easy-to-use slide rule format, the compensation figures provide at-a-glance statistics concerning hourly and annualized compensation for physician jobs nationwide.
The Jackson & Coker 2012 Provider "Contribution to Operations" Percentage Calculator is available in hard copy and online at http://www.JacksonCoker.com. The web version presents this data in an easy-to-use format, which compares average revenue generated by a particular physician specialty against average hourly and annualized compensation for that specialty. With the online tool, hospital administrators and group practice managers can calculate the revenue contribution of their permanent and hourly physician staff in major specialties. The hard copy version includes nationwide numbers of doctors providing patient care in a given specialty and percentages of those physicians who are Board Certified, International Medical Graduates, doctors nearing retirement, and current residents. Click here to view the electronic version of the "2012 Physician Contribution to Operations Calculator." To request a hard copy, email Jennifer Gaharan at jgaharan(at)jacksoncoker(dot)com.
"This comparative data paints a good picture of the physician market place – both in terms of the size and makeup of the prospective candidate pool associated with a given medical specialty and the commensurate compensation linked with that specialty," commented Edward McEachern, the firm's Vice President of Marketing.
"Using this information, hospitals and other healthcare organizations can better determine locum tenens and permanent employment staffing projections for the near future and beyond," he added.
About Jackson & Coker
Jackson & Coker (http://www.jacksoncoker.com), a prominent physician staffing firm, believes that all hospitals, clinics, physician practices, and patients should have access to a physician whether for a day, a lifetime, or any of life's changes in between. For over three decades, Jackson & Coker, a leader in locum tenens recruitment, has been uniting physicians and hospitals to ensure that all patients' needs are met by providing physicians for as little as a day and as long as a lifetime. The firm specializes in doctor opportunities for physicians at any stage of their professional career.
Headquartered in metro Atlanta, the physician recruitment firm has earned a reputation for placing exceptionally qualified candidates in commercial and government practice opportunities. Recruiters work in two divisions of the company: Permanent placement, which recruits providers in over 40 medical specialties for permanent physician jobs, and locum tenens, a staffing model that recruits medical providers (physicians and CRNAs) for temporary vacancies.
Jackson & Coker is ranked #5 among "The Best Places to Work For – 2011" by Staffing Industry Analysts. This is the second year in a row that Jackson & Coker has been listed among the top ten nationwide staffing firms in its size, as designated by this prestigious award.