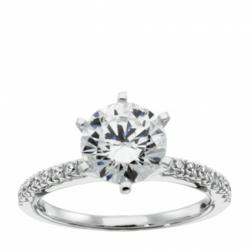 These styles are not meant to be costume jewelry pieces, they are for lifetime wear, like the rings celebrities are wearing
(PRWEB) March 14, 2012
With the popularity of celebrity engagement rings, and largely based on customer request, Diamond Nexus will be launching a new campaign called Celebrity Looks for Less. This will highlight ten celebrities and affordable options that match.
Diamond Nexus follows the latest celebrity trends closely and uses that as inspiration for their designs. These rings resemble the look of certain celebrity rings, for an inexpensive engagement ring option that still reflects the key elements seen worn by the stars. Options lay with either the vast amount of instock rings offered, or by semi-customizing them with different stone cuts or carat weights.
Full custom rings can also be made with the Nexus Design Studio, where they can use the inspiration for the celebrity rings, and create a similar ring using their designers.
"These styles are not meant to be costume jewelry pieces, they are for lifetime wear, like the rings celebrities are wearing," pointed out Missy Eggener, Nexus Design Studio Representative.
"With our Nexus Design Studio, customers can create the rings that aren't able to be semi-customized on the website. So they can make a ring exactly like a star's ring, or something similar with a size that is more to their liking," replied Eggener.
One of the celebrities showcased is Reese Witherspoon. Her 4-carat Ashoka diamond ring set on a pave diamond-and-platinum band, holds an extremely rare cut stone and is estimated to have cost $250,000.
Diamond Nexus can create a ring similar to hers with the Angelix, which can be semi-customized to hold a 4 ct. center. "We think that a great option would be to set the ring with a Radiant cut center, to imitate the look of her rare Ashoka cut stone, at a price customers will be able to afford. The ring features similarly placed accent stones and a comfortable band, made petite to showcase the stones and remain easy-wearing," commented Jennifer London, Social Media Coordinator at Diamond Nexus.
Hollywood fashions and jewelry choices steer the latest fashion trends, so Diamond Nexus wanted to offer their customers these celebrity looks for less. "Whenever a celebrity gets engaged, we are flooded with requests to make that ring. Now with the Celebrity Looks for Less, customers can more easily find the details on the ring and get options for how to create a similar style, according to their budget," said Nancy Jaeck, Nexus Design Studio Manager.
Diamond Nexus was founded in 2004 with the purpose of bringing to the public the powerful benefits of the lab-created diamond simulant revolution. They have over 250,000 customers worldwide that have awarded them an "A+" rating with the BBB, and are the ninth largest online jewelry retailer in America according to the 2011 IR500 list. For two years in a row brides from The Knot have selected them as their Best of Jeweler. Diamond Nexus currently has two retail locations: their flagship store at Woodfield Mall in suburban Chicago, Illinois, and a second store at Mayfair Mall in Milwaukee, Wisconsin. In 2009 the company was named the official jeweler and crown maker of the Miss Universe Organization as part of NBC/Universal's "Green is Universal" environmental initiative.