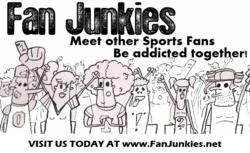 Now it's your turn. Join the new wave of Sports Social Media and Social Networking today!
New York, NY (PRWEB) March 20, 2012
A new sports fan social media network devoted solely to covering the world of Sports, FanJunkies.net has launched and prepares to enter the main stream world of Sports Social Media this Winter/Spring with a fully complimentary website where fans can interact with one another through statuses, comments, chat rooms, private instant messaging and team groups pages.
Not only will FanJunkies.net have a significant amount of exclusive content from around the entire Global Sports scene by dedicated fans, but it will also provide some of the most complete views and opinions of sports fans for the following sports: Baseball, Football, Hockey, Basketball, Soccer, College Sports, High School Sports, MMA, Professional Wrestling, the Olympics and so much more.
At this moment the the site is already starting to fill up with sports fans from across the globe, but FanJunkies needs more — that is where the greatest fans in sports comes in. FanJunkies is looking for fans from all over the World to create their own member profiles with their very own picture and information about the members and their favorite teams, sports and athletes.
It's that simple! Create a profile, connect with sports fans in a social network environment and have fun!
The best part is the site is 100% free to join, create a profile and interact with fans. No strings attached.
At the moment, FanJunkies.net has groups for teams in the MLB, NFL, NHL, NBA as well as groups for MMA, UFC, and Professional Wrestling such as the WWE. Other groups will be added very shortly.
While the aforementioned leagues/teams are those in which FanJunkies has created already, inquires regarding all other organizations and leagues are certainly welcome as well. Additionally, those who may be interested in contributing to the site as a moderator/officer for a certain group will also be welcome.
Joining FanJunkies.net from the very beginning will set sports fans on the path to a new and exclusive type of social network with all the bells and whistles. And the best has yet to come. FanJunkies.net is already in the beginning stages of adding more features to the site. Some features that are already in store for future FanJunkies.net members are: upload photos for friends/fellow sports fans to view, create polls for fellow fans to vote on, send friend requests to fellow fans and so much more on this brand spanking new sports social networking site.
Engage in discussions about favorite teams, favorite sports and favorite players/fighters/wrestlers all day, every day.
FanJunkies.net is also accepting advertising and sponsorship opportunities from other sites, leagues, etc.
In the future, FanJunkies.net will also give fans the chance to play in their own fantasy sports leagues for Baseball, Football, Hockey and Basketball.
FanJunkies.net launched on March 10, 2012 and has already gained a following from sports fans.
They are creating their own profiles and already engaging in discussions about their favorite teams and already are meeting other fans.
Now it's your turn. Join the new wave of Sports Social Networking and interact with your fellow fans.
You can also follow Fan Junkies on Twitter @FanJunkiesNet