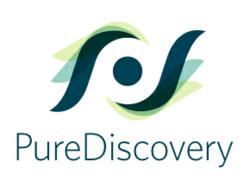 "BrainSpace has become the intelligent center of eDiscovery," Dave Copps, CEO of PureDiscovery.
Dallas, TX (PRWEB) March 16, 2012
PureDiscovery Corporation today announced that Huron Consulting Group's Legal Consulting practice, a leading provider of eDiscovery services, has selected its LegalSuite Application for Data Analytics.
BrainSpace™, PureDiscovery's Semantic Discovery Platform, will continue to provide transparent semantic search, visual clustering and semantic document identification, as part of Huron Legal's V3locity® solution. PureDiscovery's BrainSpace platform was selected by Huron Legal for its unique ability to learn dynamically from case documents, use that learning to provide transparent semantic searches, and visually organize and navigate large collections of case data.
"PureDiscovery technology enables us to discover, analyze and cull documents in a cost effective and efficient way," said Bob Rowe, Managing Director and Discovery Services leader, Huron Legal.
The BrainSpace technology stack will be used for a full range of Huron Legal's eDiscovery functions including, ICA® (Immediate Case AssessmentTM), analytics, and review. PureDiscovery BrainSpace is quickly becoming the semantic technology standard in the eDiscovery market.  
"BrainSpace has become the intelligent center of eDiscovery," said Dave Copps, CEO of PureDiscovery. "Whether it is a part of early case assessment, analytics or review, our clients are finding BrainSpace provides a core technology advantage that dramatically improves every process it touches. Huron Legal has really raised the bar in the eDiscovery market and we are thrilled to remain a part of their continued success."
About PureDiscovery PureDiscovery Corporation, creator of the BrainSpace™ semantic platform and the PureDiscovery LegalSuite offering, is reinventing the art of discovery. PureDiscovery BrainSpace is the only technology capable of transforming hundreds of millions of unstructured documents into a working semantic intelligence that dynamically connects people and knowledge. For more information about BrainSpace, PD LegalSuite and other PureDiscovery products, please visit http://www.purediscovery.com.
About Huron Legal
Huron Legal provides advisory and business services to assist law departments and law firms to enhance organizational effectiveness and reduce legal spend. Huron Legal advises on and implements strategy, organizational design and development, outside counsel management, operational efficiency, and discovery solutions, and provides services relating to the management of matters, contracts, documents, records, digital evidence and e-discovery.
Learn more about: Huron's IMPACT® solution, which delivers sustainable cost reductions ranging from 15 to 40 percent; R3con® solution, a cost-effective forensic investigation solution to protect enterprise data; Sp3ctrum™ solution, a managed services discovery solution; and V3locity® solution, offering a streamlined e-discovery process that results in predictable discovery costs. Learn more at http://www.huronconsultinggroup.com/legal .