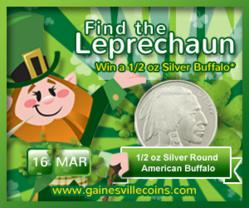 Play and WIN a FREE 1/2 oz Silver Buffalo Coin on St Patrick's Day.
Lutz, FL (PRWEB) March 15, 2012
St. Patrick's Day is a celebration of Ireland's cultural legacy. Gainesville Coins is joining the festivities with the first annual "Find the Leprechaun and Win a ½ oz Silver Buffalo!!" promotion.
The promotion to win a ½ Silver Buffalo will last all day on Friday, March 16th 2012. Go to Gainesvillecoins.com to see the full rules of the game.
Rules of the Game
1. Find the Leprechaun image with the promo code. Hit the "Lets Play" button, and the Leprechaun image will be randomly placed in one of the product descriptions on Gainesvillecoins.com.
2. The promotion code for the free 1/2 oz Silver Buffalo is only valid with orders valued at $500.00 or more. Gainesville Coins recommends finding the Leprechaun before adding items to your cart. Items placed in a cart will time out and empty after 20 minutes. The hunt for the Leprechaun could take some time given the number of items for sale at Gainesville Coins.
3. After the Leprechaun and promo code is located, add at least $500 worth of items into a cart to qualify. Enter the "Coupon Code" into the "promo code" line during the check out procedure. The ½ Silver Buffalo Coin will be added to the order at no cost.
Disclaimer

Customers need an online account with Gainesville Coins to participate.
Each online account with Gainesville Coins can take part of this promotion once.
Prices of items in a shopping cart are not locked-in until the order is placed.