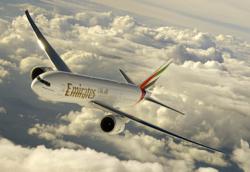 Washington, DC (PRWEB) March 15, 2012
On Thursday, Emirates Airline, a Dubai-based national carrier of the United Arab Emirates (U.A.E.), announced plans to initiate non-stop daily flight service between Dubai International Airport and Washington Dulles International Airport in an e-mailed statement to the U.S.-U.A.E. Business Council and press. The new route, which is set to begin on Wednesday, September 12, 2012, will serve as Emirates' seventh direct connection to a major airport in the United States and will be operated by American-made Boeing 777-300 ERs.
"As Emirates' seventh U.S. gateway and our third new American route to launch in 2012, Washington, D.C. is a significant next step as we continue to expand our services across the country," said His Highness Sheikh Ahmed bin Saeed Al Maktoum, Chairman and Chief Executive of Emirates Airline & Group. "From opening new gateways and creating thousands of American jobs through our aircraft orders [to] boosting trade and creating U.S. export-related jobs by bridging America with key markets across the world; Emirates is a committed supporter of U.S industry."
In fact, Emirates employs over 700 Americans globally and its ledger includes a record-breaking $24 Billion order for fifty Boeing 777-300ERs, placed at the Dubai Air Show in November. This historic order complements Emirates' large fleet of Boeing aircraft —commercial and freighter— already supporting its global operations; including flights to its six other U.S. destinations. According to the U.S. Department of Commerce, Emirates' planned investment in American industry is expected to support skilled jobs in more than a dozen states and impact over 250,000 direct and indirect American jobs.
"The new connection between D.C. and the U.A.E., a strategic ally for the U.S. in the Middle East and an international gateway to key markets in the Middle East and Asia, through Dubai will effectively create and support American jobs and will significantly boost the commercial, diplomatic, and defense and security relationship between the U.S. and the U.A.E.," said Danny Sebright, President of the U.S.-U.A.E. Business Council. "As a corollary, the new link will serve to directly connect senior policymakers from both countries, allowing for closer coordination and further development of the U.S.-U.A.E. economic and strategic relationship."
For Emirates, the new route is a key element in its U.S. and global expansion strategy; connecting Dubai to the Washington metropolitan area, a community known for its diversity and international scope of commerce and policy. For the D.C. area, the new Emirates flight presents an opportunity to attract new international consumers and develop relationships with people from the U.A.E. and key markets around the world that use Dubai as a global transit point.
Starting September 12, 2012, Emirates flight EK 231 will leave Dubai daily at 2:20 am and arrive at Washington Dulles International Airport (IAD) at 08:50am. Flight EK 232 will depart Dulles at 10:55 am arriving in Dubai at 8:00 am the following day. Customers traveling to and from the United States can also benefit from Emirates' partnerships with Jet Blue, American Airlines, Virgin America, and Alaska Airlines.
About the U.S.-U.A.E. Business Council:
The U.S.-U.A.E. Business Council is a progressive business advocacy organization solely committed to the advancement of the trade and commercial relationship between the United States and the United Arab Emirates. The Business Council actively works to ensure that the U.S. and U.A.E. remain attractive destinations for foreign direct investment by conducting effective policy advocacy, undertaking various trade promotion initiatives, providing ongoing updates on the business climate in both countries, and helping develop strategic relationships between U.S. and U.A.E. business and government officials.
For more information, visit: http://www.usuaebusiness.org