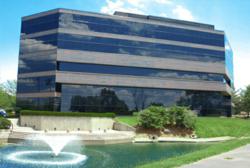 We are very excited about the new location. It should improve our employees' work experience and be more convenient for clients
Lexington, Ky. (PRWEB) March 15, 2012
The Lexington, Ky. office of Steptoe & Johnson PLLC has moved to a new location to better serve clients and support its growth in the region.
The law firm moved to its new location at One Paragon Centre on Harrodsburg Road on March 8, 2012. The new office doubles the space of the previous location and will accommodate the firm's expanding presence in Kentucky. Steptoe & Johnson opened its first Kentucky office in 2009.
"We are very excited about the new location. It should improve our employees' work experience and be more convenient for clients," said Managing Member Jeffrey Phillips. "Our expanding presence in Kentucky, coupled with the addition of attorneys in the MSHA, litigation and bond practices, made the move from our prior location a necessity."
The firm's Lexington office houses seven attorneys practicing in areas including: taxation, complex litigation, campaign and election law, energy, labor and employment and public finance.
About Steptoe & Johnson
Steptoe & Johnson PLLC is a regional, business-focused firm with particular strengths in energy, labor, employment, and litigation. It comprises over 230 lawyers resident in eleven locations throughout West Virginia, Ohio, Kentucky, Pennsylvania and Texas. Visit http://www.steptoe-johnson.com.
For more information, contact Betsy Spellman, Chief Marketing Officer, at (304) 933-8000 or by email: betsy.spellman@steptoe-johnson.com.
###