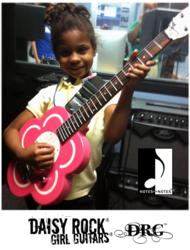 We're thrilled to be a part of such a well-respected after school program that champions music education.
~ Tish Ciravolo
President and Founder of Daisy Rock Girl Guitars
Los Angeles, CA (PRWEB) March 23, 2012
Daisy Rock Girl Guitars, the original girl guitar company, supports Notes for Notes, the non-profit organization dedicated to using music as a positive influence in the lives of youth, with the donation of a Daisy Rock Pepper Mint, Pink Daisy electric guitar.
Notes for Notes services the youth via fully equipped drop-in studios called MusicBoxes located in the Boys and Girls Clubs facilities throughout the Santa Barbara, CA area. The organization provides access to musical instruments, instruction, and recording studio environments free of charge. Daisy Rock Girl Guitars is one of several musical instrument manufacturers helping to make a difference by placing musical instruments in the hands of young boys and girls to ignite the joy of making music.
Philip Gilley, Executive Director and Founder of Notes for Notes, exclaims: "The guitar is like a magnet, attracting the young girls in the studio to play! We thank Daisy Rock not only making cool guitars for girls, but also for donating to Notes for Notes as it is inspiring the next generations of musicians to pick up an axe and rock!"
Tish Ciravolo, President and Founder of Daisy Rock Girl Guitars, shares: "Daisy Rock Guitars is extremely honored to support The Boys and Girls Club of Middle Tennessee by donating a Daisy Rock Pepper Mint Pink Daisy Guitar to their Notes for Notes MusicBox program. We're thrilled to be a part of such a well-respected after school program that champions music education."
Notes for Notes was founded on the core belief that music is the universal language of humankind, and has the power to transcend virtually any barrier—be it economic, cultural, racial, or societal. At the heart of the organization is a dedication to the relationships formed through music. The organization is adamant about freedom of expression and respect for the creativity of others that drives an open environment in the studio. Notes for Notes builds, equips, and staffs after-school recording studios called MusicBoxes with the goal to provide a positive, safe, and inspiring recording studio environments that offer youth the opportunity to explore, create and record music for free.
MusicBox locations are coming soon to the Boys and Girls Clubs in the Nashville area. For more information about Notes for Notes or to find a MusicBox location, visit MusicBox.org.
Daisy Rock Girl Guitars offers a complete line of quality girl guitars designed to look and sound great, and to fit the female form. For more info, or to find a dealer near you, visit daisyrock.com.
ABOUT DAISY ROCK GIRL GUITARS
Daisy Rock Girl Guitars is the original girl guitar company dedicated to successfully supplying and marketing professional quality guitars for females of all ages. All Daisy Rock guitars are designed specifically for the female form and feature lightweight bodies, "Slim & Narrow" neck profiles to better fit smaller hands, and are available in inspiring finishes. Daisy Rock Girl Guitars' ongoing mission is to do whatever it takes to help girls play guitar and enjoy music.
Daisy Rock Girl Guitars is led by its Founder and President, Tish Ciravolo. Ciravolo is a highly acclaimed expert on female empowerment and females in music. Tish's expertise has been immortalized by her induction into the Museum of Making Music, the world's premier museum showcasing the history of the music products industry, and she is widely regarded as a visionary in the industry. Ciravolo's deep insight into the subject of girl guitars and female empowerment has made her a sought after and frequent contributor on national and international television, newspapers, magazines, websites, and radio programs including People, Time, Newsweek, CNN, ABC, NBC, FOX, VH1, the Premier Radio Network, BBC Radio, and the Associated Press. Daisy Rock Girl Guitars is in over 25 countries worldwide, and is co-owned and distributed by Alfred Music Publishing.