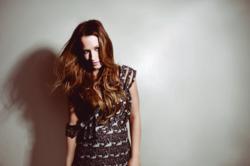 Nashville, Tenn. (PRWEB) March 15, 2012
Renowned recording artist and performer Ingrid Michaelson is back with her fifth album Human Again, and Yamaha Entertainment Group will choose one lucky winner to see her perform the new songs live. Yamaha is giving away a meet and greet with the charming singer/songwriter, along with an autographed Yamaha A-Series Acoustic/Electric guitar and more.
The sweepstakes ends April 6, at 10:00 a.m. CST. One grand prize and six second-place winners will be chosen at random from all entries received. The grand prize consists of a meet and greet with Ingrid, an autographed Yamaha guitar, an autographed copy of her new album and two tickets to a U.S. concert date of choice between April 11 and May 17. Six second-place winners will win a Yamaha Guitalele, Yamaha's unique hybrid instrument that is half guitar and half ukulele, along with an autographed copy of Human Again.
It's easy to enter and no purchase is necessary. For additional details, visit http://www.Facebook.com/YamahaEntertainmentGroup. One entry per person. Please see official rules for details.
Ingrid Michaelson's fifth studio album, Human Again, made its debut at the top of the iTunes albums chart and features a more blunt, emphatic side of the folk-pop singer/songwriter, who first gained wide exposure for her gentle, expressive tunes. A true, independent musician of the digital age, Ingrid's songs are all over the place: Grey's Anatomy, Parenthood, Scrubs and Old Navy ad campaigns, which earned her headlines for her hit song "The Way I Am."
The A-Series line of Yamaha acoustic-electric guitars features a stunning fresh look, amazing playability and the leading edge S.R.T. (Studio Response Technology) piezo/pickup system. The six guitars in the line are designed for players who require a reliable workhorse that looks, feels and sounds amazing in all applications. The A Series consists of performance level, bang-for-the-buck guitars that offer quality build and materials, including Solid Sitka Spruce Top, Mahogany Neck/Back/Sides, Ebony Bridge and a neck profile that is a thrill to play for hours on end.
Now available for the first time in the United States, the Guitalele is a miniature nylon guitar that looks and sounds like a ukulele, but features six strings and is tuned like a standard guitar up to an A (A/D/G/C/E/A). Chord fingering is the same for any standard-tuned guitar, but now guitarists can easily join the ukulele craze with a portable, playable and thoroughly unique instrument.
For more information on Yamaha products, write Yamaha Corporation of America, P.O. Box 6600, Buena Park, CA 90622; telephone (714) 522-9011; e-mail infostation(at)yamaha(dot)com; visit http://www.yamaha.com/press. For more information on Yamaha Entertainment Group, visit http://www.yamahaentertainmentgroup.com.
-END-
About Yamaha
Yamaha Corporation of America (YCA) is one of the largest subsidiaries of Yamaha Corporation, Japan and offers a full line of award-winning musical instruments and sound reinforcement products to the U.S. market. Products include: Yamaha acoustic, digital and hybrid pianos, portable keyboards, guitars, acoustic and electronic drums, band and orchestral instruments, marching percussion products, synthesizers, professional digital and analog audio equipment, Steinberg recording products and Nexo commercial audio products. YCA markets innovative, finely crafted technology products and musical instruments targeted to the hobbyist, education, worship, professional music and installation markets.
About Yamaha Entertainment Group
Yamaha Entertainment Group is a boutique, one-stop shop, record label developed to be the champion of the musician with the backing power of the largest music manufacturer in the world. YEG is branding, promotion, concert production, content development, product placement, tour support, piano logistics and artist relations, all rolled into one. Home to more than 3,600 talented artists, YEG is responsible for the development and advancement of the Yamaha brand name through numerous artist related activities worldwide.