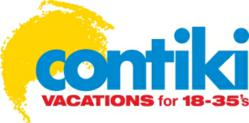 The "Friends Don't Let Friends Not Travel contest aims to inspire young people to book their first trip abroad
Anaheim, Calif. (PRWEB) March 15, 2012
Do It While You're Young (http://www.diwyy.com), a website for young women interested in travel, is pleased to announce a contest in partnership with Contiki Vacations (http://www.contiki.com), a leading travel provider for 18 – 35 year olds. The "Friends Don't Let Friends Not Travel" (FDLFNT) contest aims to inspire young people to book their first trip abroad. DIWYY and Contiki are both proponents of encouraging first-time travelers to start exploring.
"My first trip abroad was a life changing experience. As soon as I got home, I had another trip booked within a week. This pattern has continued for nearly nine years now," says DIWYY co-founder, Kristina Wegscheider.
The contest, which will be accepting entries March 15, 2012 to April 5, 2012, asks people to nominate a first-time traveler to win a spot on a Contiki tour. Eight finalists will be selected and they will continue to a Facebook voting round. The nominator and the nominee with the most votes will both win a spot on an upcoming Contiki tour.
"By sending both people, we are able to encourage new travelers to experience the world while also celebrating and rewarding those who already possess the travel spirit," added Michelle Murray, Director of Marketing and Sales for Contiki.
For more information about the contest, visit http://www.diwyy.com.
About Contiki:
Contiki has inspired 18 – 35 year olds to travel to the world's most fantastic destinations for 50 years. The trips are hassle-free and include the perfect mix of sightseeing, culture and free time. Travelers can choose from over 200 itineraries throughout Europe, Russia , Egypt , Asia, Australia , New Zealand , Mexico , Canada , South America, & the USA . For more information, please visit http://www.Contiki.com
About Do It While You're Young:
DIWYY is the brainchild of Jerri Stephenson and Kristina Wegscheider who met during a study-abroad trip to Australia in 2002. The pair shares a love of travel and has collectively ventured to all seven continents and over sixty countries in the last decade while traveling, studying, and working abroad.