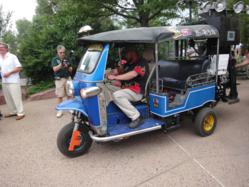 Silver Spring, MD (PRWEB) March 20, 2012
Next week, AZA members will come together in Palm Springs for the AZA Mid-Year Meeting, featuring AZA's second annual Green Summit.
As part of the Green Summit, Denver Zoo, winner of last year's AZA Green Award, will be displaying a working prototype "gasifier" vehicle: a motorized rickshaw called a Tuk Tuk that runs on animal waste (poop!) and trash.
Join AZA in chatting with Tiffany Barnhart from @DenverZoo to get the scoop on the power of poop!
What: Tuk Tuk Chat with Denver Zoo (#TukTuk)
When: Wednesday, March 21st at 3:30 PM EST
Where: On Twitter (You can easily follow the #TukTuk hashtag by using tweetchat.com)
Who: @DenverZoo, @Zoos_Aquariums, and YOU!
Spread the Word on Twitter:
Join @Zoos_Aquariums and @DenverZoo at #TukTuk Chat 3/21 3:30 PM EST!
How #TukTuk Chat works:
On Wednesday, March 21st, sign in to Twitter and bring your clean energy questions with you. Using the hashtag #TukTuk, ask our featured guest your questions over a half-hour period. As the host, the Association of Zoos and Aquariums (@Zoos_Aquariums) will provide the framework of the discussion with 10 questions. From there, we hope that you will join in with your questions and thoughts.
About AZA
Founded in 1924, the Association of Zoos and Aquariums (AZA) is a nonprofit organization dedicated to the advancement of zoos and aquariums in the areas of conservation, education, science, and recreation. Look for the AZA logo whenever you visit a zoo or aquarium as your assurance that you are supporting an institution dedicated to providing excellent care for animals, a great experience for you, and a better future for all living things. AZA is a leader in global wildlife conservation, and your link to helping animals in their native habitats. For more information, please visit http://www.aza.org.