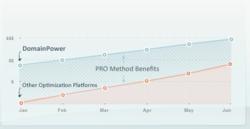 "We've integrated some of the biggest parking platforms and advertising networks in the space, which combined with the MDE, are producing some of the highest payouts in the industry." - DomainPower GM Paolo DiVincenzo
Delray Beach, FL (PRWEB) March 15, 2012
Domain Holdings announced Thursday that it launched its proprietary Monetization Decision Engine (MDE) to its award-winning DomainPower Platform, increasing revenues by up to 70%.
For the last three months, DomainPower has been building out its core MDE technology in private Beta. The MDE routes domain traffic amongst its 31 monetization partners to maximize revenue opportunities for platform users.
"When we spoke with our users in late 2011, it became abundantly clear that the main thing they were concerned with was maximum revenue on their domains," DomainPower General Manager Paolo DiVincenzo said. "We've integrated some of the biggest parking platforms and advertising networks in the space, which combined with the MDE, are producing some of the highest payouts in the industry."
In a recent customer case study, Domain Holdings analysts saw a 70 percent increase after switching a domain portfolio of 9,800 names from a single-feed parked page to the MDE.
The MDE differs from traditional rotational testing in that it uses a predictive analytics, optimizing earnings for a domain the minute it is uploaded to the platform.
"The MDE uses historical data from similar domain names to send its traffic where we predict – and have proven through testing – it will monetize the best," DiVincenzo said. "This is important for domains with little traffic, as it takes time – months, years to get a large enough traffic sample to optimize revenue."
In July of 2011, Domain Holdings completed a round of Series A funding which was used in large part to facilitate the growth and development of DomainPower. Since September, the platform has averaged over 150-percent month over month growth.
More Revenue Guaranteed
Do you earn more than $5,000 in parking revenue per month? Domain Holdings is confident they can do better. For a limited time, Domain Holdings will contract guaranteed current revenue for domain portfolios, plus upside. Guarantees are subject to review/analysis of historical stats. For those interested in learning more, please contact Chris Waters - Chris(at)domainholdings(dot)com – or call - (561) 634-7334.
About Domain Holdings
Domain Holdings is a world-class service provider in domain life-cycle management, specializing in the buying, selling and monetizing of domain names. The company was co-founded by Chad Folkening, a longtime domain industry veteran, and John Ferber, co-founder of Advertising.com which was acquired by AOL for approximately $500 million in 2004, and whose collective online products and services have grossed more than $3 billion since 1996. DomainPower is an end-to-end domain monetization platform and marketplace. Like us on Facebook and Follow Us on Twitter.