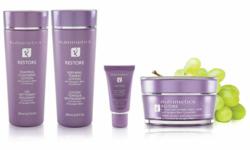 In a recent independent clinical study of the Restore Collection, 100 percent of the women reported less wrinkles in just 28 days.
Houston, TX and Calgary, Canada (PRWEB) March 16, 2012
Avalla, LLC introduces a breakthrough reformulation to the popular Restore Collection anti-aging skincare line, imported from Nutrimetics in Australia. Arriving in North America this month, this beautiful line of natural skincare has been enhanced to include the powerful anti-oxidant benefits of Sauvignon Blanc grape extract and amazing anti-aging results from peptides.
In fact, a recent independent clinical study of the Restore Collection showed that 100 percent—yes, all!—of the women reported less wrinkles in just 28 days.
"The new Restore is an amazing peptide-rich solution that includes some of nature's most effective anti-aging ingredients," says Pamela C. Dean, founder and CEO of Avalla, a Houston, Texas-based direct selling company that offers botanically-based skincare, anti-aging, beauty and wellness products, along with an entrepreneurial opportunity that includes unlimited income potential, flexibility and the freedom to have one's own business without high start-up or overhead costs.
The Restore Collection's featured Ingredients are:
Sauvignon Blanc Grape Extract
Peptides
Hyaluronic Acid
Shea Butter
Night Jasmine
African Whitewood Extract
Black Tea and Chamomile
These ingredients work together to improve the health of the skin, smooth the appearance of wrinkles, enhance skin radiance, diminish pigmentation, moisturize and nourish the skin, rejuvenate damaged cells, stimulate collagen production, protect against future signs of aging and create a beautiful, youthful complexion. Restore is paraben free.
Through March 31, the new Restore Collection is being offered for an introductory price of $140, a 26% savings off the regular $190 price. The collection includes the Restore Cleansing Lotion, Restore Toning Lotion and Restore Intense Night Crème. This month's offer includes a free Restore Firming Eye Crème.
Avalla Consultants across the United States and Canada are hosting fun-filled "Sauvignon Blanc" parties to kick off the new Restore line and introduce it to customers. These events are a fun, casual way for ladies to get together to enjoy friendship, a glass of wine and sample Restore's luxurious Sauvignon Blanc and other product ingredients in a relaxed atmosphere.

About Avalla:
Avalla offers an extraordinary line of botanically inspired beauty and wellness products that are safe, naturally sourced and offer excellent value to customers. By combining the purest ingredients that the earth has to offer, along with state-of-the-art product formulations perfected by science, Avalla combines the best-of-the-best products, people and technology to attract the next generation of leaders, consultants and customers. The company prides itself on creating a heart-based family of successful entrepreneurs who are dedicated to assisting others in achieving a financially secure lifestyle and empowering them to believe in themselves. Avalla is a member of the Direct Selling Association, and adheres to and supports their code of ethics. To learn more, visit http://www.avalla.com.
Avalla president and founder Pam Dean is available for media interviews. To schedule an interview, contact Gina Mazza at 724.316.4751 or email ginamazza(at)me(dot)com.
E-photos are also available.