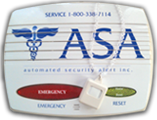 Automated Security Alert's medical alarms have some of the fastest response times in the industry and their company is strictly a healthcare company with a life safety monitoring center that functions as a remote nurses' station
Pittsburgh, PA (PRWEB) March 15, 2012
The patients and residents of Albright Care Services have a new reason to smile: Automated Security Alert is providing them with medical alarms. This is the first time this level of medical alarm service has been provided to Albright Care Services, which include more than a hundred people between the Albright facilities.
Automated Security Alert's medical technicians began the installation on Wednesday, February 29, 2012. The previous provider that Albright used did not have a turnkey medical alarm service in place. The residents and the caretakers can now breathe easier knowing that if any situations arise Automated Security Alert provides immediate response. Jason Seyler, Automated Security Alert's Life Safety Director said, "The residents and their families at Ridge Crest Court Apartments and the Cottages now have the best solution possible." Seyler further elaborated that Automated Security Alert's medical alarms have some of the fastest response times in the industry and that their company is strictly a healthcare company with a life safety monitoring center that functions as a remote nurses' station, while many other medical alarm companies are overseen by non-medical security companies. The company is based in Pittsburgh, Pennsylvania.
Automated Security Alert, Inc., has provided freedom and security since 1988 to over 60,000 consumers through the use of technology and services that enable seniors, physically-challenged persons and recovering patients to maintain an independent lifestyle in their homes. ASA's creative, dependable solutions include Telehealth, medical alert systems(personal emergency response systems); fall detection systems; and medication management systems, including electronic pill dispensers and monitored medication dispensers.
For further information, please contact Matthew Couillard at 1.800.338.7114.